Jessica Biel And Sofia Vergara Line Up For New Year's Eve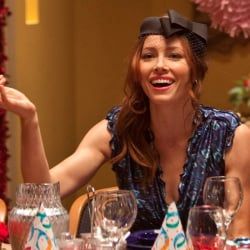 Even though New Year's Eve is kind of a spiritual sequel to the mega-rom-com Valentine's Day, my understanding was that they were trying to assemble an all-new cast of celebrities and not have any of the shorelines from the previous film overlap. And yet they've already cast Ashton Kutcher, who was the closest thing the first movie had to a central star, and now THR reports that Jessica Biel, who played a workaholic wooed by Jamie Foxx the first time around, has signed on as well.
In a casting movie that would totally destroy the world of the two films if anyone actually cared, Biel seems to be playing a totally different character this time, a pregnant woman aiming to be the first person in New York to give birth in the new year. In addition they're bringing on Modern Family's Sofia Vergara, a woman so funny her participation is almost enough to make me actually want to add this thing. Other names that have cropped up in the casting process include Robert De Niro, Michelle Pfeiffer, Hilary Swank, Lea Michele and Abigail Breslin, with Garry Marshall back to steer the whole thing through the streets of Manhattan like a candy-colored Thanksgiving Day float. The movie hits theaters next holiday season, of course.
Staff Writer at CinemaBlend
Your Daily Blend of Entertainment News
Thank you for signing up to CinemaBlend. You will receive a verification email shortly.
There was a problem. Please refresh the page and try again.