Joe Dirt 2 trailer Sends David Spade's Rude Redneck Back In Time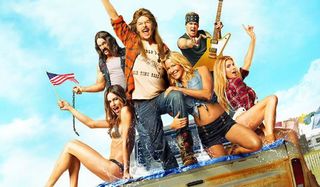 The first full trailer for the Crackle-exclusive cult classic sequel Joe Dirt 2: Beautiful Loser has arrived in a Hemi-powered vehicle, delivering the 14 year-in-the-making return of David Spade's wayward redneck. Besides destroying decorum regarding contemporary hair styles, it looks like Joe will be breaking the space-time continuum!
The original Joe Dirt from 2001 ended on what would have to be as definitive of a happy ending as there could be. He gets the girl, reunites with his friends, and leaves a bully literally in the dust. However, it seems that 'ole Joe, like a Def Leppard-loving Dorothy, finds himself whisked away from his loving family by a tornado to an exotic and mysterious land of sorts. Now, the happy-go-lucky loser whose haircut's party in the back is matched by business buffoonery in the front will find himself a mulleted Marty McFly, stuck in the year 1965.
Essentially catching us up on what Joe's been up to for the last 14 years, we see that he did indeed marry his love interest, Brandy (Brittany Daniel), and made themselves a NASCAR pit crew of triplet daughters, living in an appropriately idyllic picket-fenced trailer park home. However, some inexplicable circumstances involving a storm whisks Joe back in time, where he meets, among others, a "younger" (emphasis on the quotes) version of Christopher Walken's witness relocated mobster Clem, who is still quite a bit away from becoming the unassuming school janitor he first meets.
However, Joe being Joe, it seems that he starts using his knowledge of useless trivia in a way that meddles with the timeline. Much like the aforementioned Marty McFly learned the hard way in Back to the Future II, utilizing knowledge of the future in the past can have catastrophic effects on the present. Some life-altering events could distribute their way to the present, creating an alternate timeline in which Joe and Brandi never meet as originally fated. Exactly how Joe will get around to fixing this stalled hillbilly hot tub of a timeline remains to be seen. For all we know, the time travel aspect might contain some twist similar to the true nature of Joe's found "meteor" in the first movie.
Joe Dirt 2 will serve as the very first original film to debut on Crackle and should prove itself as an intriguing Guinea pig for such a release strategy. While the original film's 2001 box-office take yielded an unimpressive $30 million, the film proved itself a quotable guilty pleasure over the years and for David Spade, the comeback seemed warranted. The film will see virtually the entire cast of the original film such as Brittany Daniel, Christopher Walken, Adam Beach and Dennis Miller return. In the director's chair this time around is Fred Wolf, who co-wrote the original film with Spade, later going on to direct Anna Faris comedy hit, The House Bunny.
Joe Dirt 2: Beautiful Loser looks to go back in time and make the mullet a thing well before mankind was prepared to resist when the film premieres on Crackle on July 16th.
Your Daily Blend of Entertainment News
Thank you for signing up to CinemaBlend. You will receive a verification email shortly.
There was a problem. Please refresh the page and try again.