The First Joe Dirt 2 Trailer Teaser Is Stupid Greatness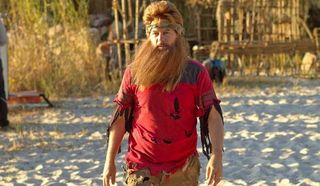 You already know whether or not you're excited for Joe Dirt 2. When you heard it was happening, your first reaction was either a pained groan or an enthusiastic, "Hell yeah," followed by a whoop that scared the crap out of your neighbor's kids. If you're in the latter camp, today is a good day for you, because there's a new trailer for Joe Dirt 2: Beautiful Loser, and it is stupid awesomeness.
EW debuted this short new trailer, which gets a lot of the old gang back together. The mega-mulleted protagonist (David Spade) is here, obviously, it wouldn't be much of a movie without him, but so are many other familiar faces. Brittany Daniel's way-out-of-his-league love interest, Brandy, shows up, as do Adam Beach's Native American fireworks salesman, Kicking Wing, and Christopher Walken's former mob boss/informant Clem.
Kid Rock's muscle car-driving redneck Robby is nowhere to be seen this time around, but Sugar Ray frontman Mark McGrath appears, which I feel like is a solid trade. And from the brief snippets we get here, it looks like we're in for more of the same kind of humor you expect. Joe is still dumb as shit, but completely earnest and well meaning, and he's bound for some great adventures. Remember, life's a garden, dig it, and you can bet your ass he will.
There's even a bit of a sci-fi twist to the sequel to the 2001 original as Joe, now a "happy family man"—yes, Joe Dirt spawned, which is both potentially terrifying and hilarious at the same time—is transported back in time. Finding himself in the recent past, he once again embarks on a journey to get back home to his beloved family, and along the way you just know he's going to keep on keepin' on. It even says as much on this new poster.
Joe Dirt wasn't exactly a smash hit when it was released. It made $27 million against a $17 million budget, so it wasn't a total failure, but it was critically panned and dismissed by most people. Still, it found a niche and collected a rabid cult following over the years. A few years back, there were even attempts to get an animated series off the ground, though that never materialized.
According to David Spade, it was this fan interest that really got Joe Dirt 2 off the ground. When asked why, after all these years, they decided to bring Joe back, Spade said:
Spade and Fred Wolf reteamed to write Joe Dirt 2: Beautiful Loser, and this time around, Wolf, who directed 2008's The House Bunny, takes the helm. But don't start checking the listings for your local theater just yet, as this is set to debut this summer on Sony's streaming service Crackle.
Your Daily Blend of Entertainment News
Your Daily Blend of Entertainment News
Thank you for signing up to CinemaBlend. You will receive a verification email shortly.
There was a problem. Please refresh the page and try again.