John Travolta And Nicolas Cage Planning Not One But Two Possible Face/Off Reunions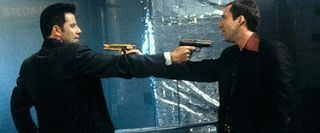 The goofy, bombastic joy of 1996's Face Off has only increased over the years, as stars Nicolas Cage and John Travolta have gotten publicly crazier and every subsequent action movie has failed to come up with a concept half as crazy. So rejoice, everyone who think pop culture peaked when those two traded faces-- they're not making a sequel, but they're looking into co-starring in not one but two upcoming projects. According to Vulture the two are circling the thrillers Shrapnel and Sea Trial, though it's unclear how much they're aiming to do this as a duo or just interested separately.
Shrapnel had Die Hard director John McTiernan attached last fall, but now that McTiernan is serving a year of jail time for lying to FBI agents, it's unclear if he'll be able to see it through. The other one, Sea Trial, comes from City Island writer-director Raymond De Felitta, and is based on the novel written by De Felitta's father. Sea Trial is still looking for funding, so it's conceivable that Cage and Travolta could team up on Shrapnel while the second one pulls itself together, and the bromance will never stop! Cage seems to take pretty much any role that comes his way these days, so there's no reason to think he wouldn't be on board; beyond the news from January that he was in talks for a John Gotti biopic, Travolta doesn't seem to have anything else lined up. Let's get this Face/Off reunion started!
Your Daily Blend of Entertainment News
Staff Writer at CinemaBlend