Joseph Gordon-Levitt Will Play Edward Snowden In This Controversial Biopic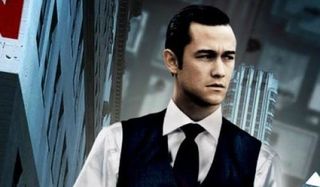 Hollywood is full of stories about child stars who made it big young, then flamed out and met tragic ends. Inception star Joseph Gordon-Levitt is not one of those cautionary tales. The actor, who got his big break as a fresh-faced kid on television series like Roseanne and Third Rock from the Sun, has made quite a career for himself in years since those shows went off the air. And the latest industry buzz has the actor potentially playing one of the most controversial figures in recent American history: NSA whistle-blower Edward Snowden.
Deadline reports that Oliver Stone is keenly interested in getting Gordon-Levitt to headline his new bipoic about the former CIA system administrator. Snowden became a hot topic in 2013 after divulging the extent of governmental surveillance in the wake of 9/11, eventually forcing him to seek asylum in Russia. With filming set to begin this December in Munich, time is of the essence when it comes to casting.
The Natural Born Killers filmmaker has the rights to a book titled Time of the Octopus, written by Snowden's Russian lawyer. Stone also bought the rights to The Snowden Files: The Inside Story Of The World's Most Wanted Man, a non-fiction treatise by Guardian reporter Luke Harding. With this much material at his disposal, it appears Stone – who's been relatively quiet since departing a project about the life of civil rights activist Dr. Martin Luther King – is ready to bring the world the story of a man who is revered in some circles as a great patriot, and in others as a modern day Benedict Arnold.
Stone's film isn't the only Snowden biopic in the Hollywood pipeline. Sony has already acquired the rights to Glenn Greenwald's yet-to-be-published No Place To Hide: Edward Snowden, The NSA, And The U.S. Surveillance State, which will be shepherded through production by Bond series producers Barbara Broccoli and Michael G. Wilson. That duo knows a thing or two about spy movies and espionage.
Joseph Gordon-Levitt would make for an interesting Edward Snowden, and it's not hard to imagine Stone presenting the former government contractor in a sympathetic light (the filmmaker loves to rail at governmental conspiracies – just watch JFK if you're unconvinced). The actor recently finished shooting Robert Zemeckis' The Walk, and has been recently filming Jonathan Levine's upcoming Christmas comedy with Seth Rogen. He's clearly on a tight schedule, but it seems likely that he could make it to Munich for a December shoot with Oliver Stone if all the fine details can be hammered out.
No matter which side of the Snowden debate you come down on, it's a fascinating story that should make for a compelling film. Stone has made a good choice for the part in Joseph Gordon-Levitt, and now all he has to do is get the actor officially on-board and start making movie magic.
Your Daily Blend of Entertainment News
Thank you for signing up to CinemaBlend. You will receive a verification email shortly.
There was a problem. Please refresh the page and try again.