Josh Hutcherson Still Wants To Play Spider-Man, But Have They Asked Him?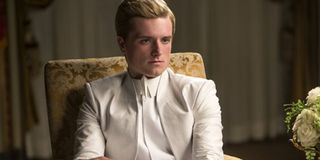 While the search is on for a new actor to replace Andrew Garfield as Spider-Man when the web-slinger makes his groundbreaking cross-studio debut in Marvel's Captain America: Civil War, some of the rumored candidates from the previous search five years earlier are starting to come back into the conversation. Among the most noteworthy of them is Josh Hutcherson. Now a certified star in The Hunger Games series, the previously short-listed wall-crawling candidate has been fielding questions about the possibility of taking the coveted role this time around – but it seems that he has not yet heard anything about the opportunity.
In an interview with Yahoo, the topic of Hutcherson potentially donning the Spider-Man costume was brought up, and while the idea of bringing a prospective "Peeta Parker" to life on the big screen seems like something he'd love to do, it's not something he has yet been asked about. Asked if he had been thinking at all about the search for the new Marvel Cinematic Universe Spider-Man, the a young actor replied,
While current rumors regarding the new Spider-Man are pointing to a desire to make an ethnically blind casting choice, nothing has been confirmed regarding the search parameters other than the idea that this new Spidey will be younger this time around than Andrew Garfield was when he was initially cast (he was 27 at the time). Yet, the idea that Josh Hutcherson could don the webbed red and blue is hardly an inconceivable notion, especially since Hutcherson was, in fact, a major player in the race to first cast The Amazing Spider-Man. He even went as far as to record himself doing a bit of Spidey-type action in a demo reel:
Followers of the movie news beat with good memories will recall that Josh Hutcherson, only 17 at the time, was actually a strong candidate for the role of Spider-Man back in 2010. While he already was a veteran of several films, it was well before his stardom grew when he jumped on the money-printing phenomenon that is The Hunger Games franchise. It should be noted that it wasn't until after Garfield was announced as the new Spidey that an arachnid acrobatics-heavy audition tape featuring Hutcherson as a spectacled, nerdy Peter Parker/Spider-Man began to disseminate on the web.
At 22 years-old, he may now be a bit old to play a teenage Spidey, but he still has youth on his side, and would now bring serious financial momentum to the franchise thanks to his powerful escapades as Peeta Mellark in the Hunger Games films. Say what you will about Hutcherson, but he does do "awkward, but assured" very well. It's a skill that could translate smoothly to the character of Peter Parker; especially since this version of Spider-Man would be leaping into the celebrated Marvel Cinematic Universe of films with The Avengers. Someone with that big-budget movie experience, wielding name recognition and that perfect type of nerdy gravitas might be a good, safe choice.
For now, you can count on seeing Josh Hutcherson in The Hunger Games: Mockingjay Part 2 when it hits theaters on November 20.
Your Daily Blend of Entertainment News