Joss Whedon Discusses Veronica Mars' Kickstarter Campaign As It Relates To A Firefly Follow-Up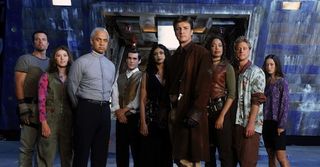 Following the speedy success of the Veronica Mars movie Kickstarter campaign, fans of other series are naturally hopeful that this potentially groundbreaking movement to get a film made could open up opportunities for other projects. Perhaps a Freaks and Geeks movie, or maybe that Friday Night Lights film people still want would have better chances with a similar campaign. And then, of course, there's the Firefly follow-up that Browncoats have been hoping for. If Veronica Mars can raise more than $2 million from fans in less than a day, how much do you suppose Firefly fans could raise? Series creator Joss Whedon addresses the topic Veronica Mars' successful campaign and the chances of a Firefly and Serenity follow-up (either a film or a TV show), expressing both joy and "dread" in a recent interview with Buzzfeed.
The feature film that followed Whedon's beloved cancelled sci-fi series wasn't exactly a financial success, but the franchise still has a huge devoted fan base. So, it's no surprise that people might look at Veronica Mars' Kickstarter campaign and immediately wonder how a similar strategy of proving interest and financial support for another Firefly follow-up might be possible.
Here's what Joss Whedon told Buzzfeed, on that subject, after expressing his joy that Veronica Mars' campaign was successful.
Whedon fans shouldn't find it particularly surprising that the director has project lined up to fill his next few years, at least. His Marvel commitments alone, which may include another TV show, if the S.H.I.E.L.D. pilot goes to series, should be enough to keep him very busy for a while. And, as he mentioned, there's the anticipated Dr. Horrible follow-up. It's looking like, if there's any chance of anything happening in the Fireflyverse, it won't be anytime soon.
Whedon goes on to talk about the split between those who want more Firefly episodes and those who are hoping for a new Serenity. There's also the cost of making a sci-fi series or feature, which isn't as high, though it's not as expensive as it used to be. "God knows, things are cheaper now than when we made even Serenity," Whedon said."Good effects can be done in a different manner. Nor is that universe all about spectacle either. But it is a tad more expensive — and a little all-consuming!"
In the end though, it sounds like availability is the major issue here, and between Whedon's commitments and that of the Firefly cast, namely Nathan Fillion, who's still starring in ABC's Castle, it doesn't sound like a Firefly follow-up would be in the cards anytime in the near future. With that said, Veronica Mars fans proved they would put their money where their mouths were to get a movie made with the success of the Kickstarter campaign. It seems likely Firefly fans would do the same, if given the opportunity. And at the very least, Whedon appears to be aware of that.
If only there were a way to raise time instead of just money.
It's not surprising that the VM campaign has sparked buzz about Joss Whedon projects in general. Veronica Mars aired on UPN and later, The CW not long after Whedon's Buffy the Vampire Slayer wrapped up, and for some viewers, the teen detective show helped fill the sizable gap another petite and capable blonde left on network television when Buffy wrapped up. Whedon's connection to Mars went further than mere association, however. The writer/director actually made a cameo in the drama in its second season, and then, of course, there are the Alyson Hannigan and Charisma Carpenter connections to both series. So between the conversation about reviving low-rated but adored TV shows and Whedon's loose ties to Rob Thomas' drama, it's understandable that people would see this Veronica Mars movie as a good sign for Firefly's future, but that future sounds like it'll be distant at best right now.
Here's a screenshot of Whedon playing a rental car store employee in Season 2's "Rat Saw God."
Your Daily Blend of Entertainment News
Assistant Managing Editor
Kelly joined CinemaBlend as a freelance TV news writer in 2006 and went on to serve as the site's TV Editor before moving over to other roles on the site. At present, she's an Assistant Managing Editor who spends much of her time brainstorming and editing feature content on the site.