Why Joss Whedon Thinks Jurassic World Looks Sexist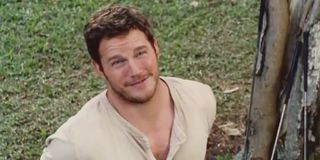 Joss Whedon has long been a proponent of gender equality in the entertainment industry. He made a grandiose speech in promotion of feminism, he has special place in his heart for female ass-kickers, like Buffy and the Black Widow, and he denounces female portrayals that he sees as set backs in the fight for equality. When the first clip from Jurassic World hit the airwaves, this inner fighter came out.
Jurassic World is one of the more highly anticipated movie offerings of the year, but viewers are already finding fault in it. Feminist blog The Mary Sue posted an op-ed response after Universal released a clip featuring Chris Pratt and Bryce Dallas Howard. Whedon, in turn, used the piece as a springboard to voice his own disdain for the footage's misognistic tones. Here are his exact words, as posted to his Twitter account.
The clip in question centers around a conversation between Owen (Pratt) and Beth (Howard). The former is a raptor researcher who has learned a few tricks on how to tame the beasts based on what he calls "a mutual respect," while the latter is one of the executives running the park. During their conversation, Beth tries to enlist her employee/one-time date to use his skills to prepare the big debut of the Indominus Rex. The creature is the park's new attraction, a genetically enhanced dinosaur that is much larger, faster, and stronger, and, based on the trailers, is a psycho with a murderous disposition. Watch the full clip below.
Prior to the release of this clip, the excitement for Jurassic World was palpable. The new film takes place far ahead of the original films, in a future world where seeing a zoo full of living dinosaurs is commonplace. Everything, from the trailers to the Super Bowl TV spot to the footage of Owen leading his army of raptors, pegged Pratt as an Indiana Jones-type badass. In addition, the new director, Colin Trevorrow, received the blessings of Universal and original Jurassic Park director Steven Spielberg. Sure, there were some criticisms of the new dinosaur's simplistic look -- though, we've really only received a decent glimpse through the Hasbro toy version -- but everything else made this seem like an impending box-office champ.
For as many qualms as Whedon has with this 90-second-long clip, the filmmaker is trying to do his part in advancing gender equality with his own films. As Hollywood continues to experience a harsh backlash from viewers demanding more female-driven fare, especially in the male-dominated superhero landscape, Whedon is introducing Scarlet Witch into the Avengers universe. Age of Ultron film hits theaters on May 1, but early reviews already peg her as a force to be reckoned with. We still have high hopes that Jurassic World will prove to be more than what this footage offers.
Your Daily Blend of Entertainment News
Your Daily Blend of Entertainment News
Thank you for signing up to CinemaBlend. You will receive a verification email shortly.
There was a problem. Please refresh the page and try again.