Jurassic World's Writers Are Quietly Fighting Behind The Scenes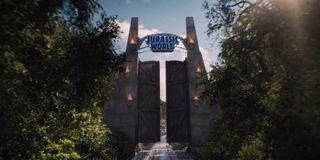 By the time Jurassic World stomps through theaters this summer, it'll have gone through some serious trials and tribulations - even more than you usual massive blockbuster movie. First, there were leaks from set that revealed key pieces of the plot, but now there's reportedly a fight brewing between the writers behind the scenes.
It's not unusual for a major movie like the fourth installment in the Jurassic Park franchise to have multiple people take multiple passes at the script before it's finished, but according to Deadline, who gets credit is becoming an issue. Universal wants one set of writers to get the onscreen nod, but the Writer's Guild of America, the official union of the industry, says that two different writing teams should share the recognition.
Director Colin Trevorrow worked on the story and script with his writing partner, Derek Connolly—the two previously collaborated on the indie sci-fi feature Safety Not Guaranteed. That's the duo the studio wants to acknowledge, as well as giving Michael Crichton a "based on the novel by" credit. That sounds all well and good, but a WGA panel came out and said that they need to share the credit with Rick Jaffa and Amanda Silver, who wrote a previous draft, and have worked on big projects in the past like Dawn of the Planet of the Apes and one of James Cameron's upcoming Avatar sequels.
Here's where it gets messy. Doing this would change the credit that appears onscreen—instead of a "written by" credit for Trevorrow and Connolly, all four would share a "screenplay by" credit. That doesn't sound like a big deal to most of us, but it is in the industry. For their part, Trevorrow and Connolly have appealed this ruling, saying that their script was a completely different thing from Silver and Jaffa's and not based on that story in any way, shape, or form.
On the surface, this doesn't seem like it should really be that big an issue, but it's kind of a quagmire. The difference between "written by" and "screenplay by" is an issue of whether or not the script was based on any already existing material. It really boils down to semantics, who gets credit for what, what each side says, and what evidence each party provides to the union. It shouldn't really impact what we see in theaters in any way, but it's just another bump in the road for a film that has been in the works since 2011 and already had its share of problems.
Jurassic World is set 20 plus years after Steven Spielberg's 1993 original, and sees John Hammond's dream dinosaur theme park become reality after a number of disastrous false starts. Because they're never satisfied with what they've got, and scientists in movies like to play god, the company that owns the park commissions a new hybrid dinosaur that's more dangerous than anything we've seen before. This, of course, doesn't go well, and the new beast escapes to wreak havoc all over the island park.
Jurassic World stars Chris Pratt, Bryce Dallas Howard, Vincent D'Onofrio, Omar Sy, Judy Greer, Jake Johnson, Nick Robinson, Irrfan Khan, Ty Simpkins, BD Wong, and more, and opens everywhere June 12th.
Your Daily Blend of Entertainment News