New Judi Dench Star Wars Rumor Is Almost Certainly Nonsense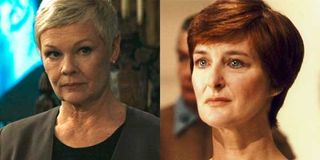 Speculation is one of the most fun things about being a fan of something. I can't even begin to count the number of hours I've spent sitting on a couch talking with friends about where we see things going for Phase Four of the Marvel Cinematic Universe, and I've loved every minute of it (even when it occasionally degrades into insults and shouting). Where speculation becomes dangerous, however, is when it becomes widespread enough to be upgraded to the status of "rumor." Rumor, of course, leads to the spread of misinformation, and it's an incredibly common occurrence when it comes to major movie franchises. It's with that in mind that we report the latest rumor from the Star Wars universe.
Sites around the internet have picked up a story from a website called Big Shiny Robot that claims to have the latest exclusive, super-duper, scoop about the latest development of Star Wars: Episode VII. The site claims - without confirming the story with anybody and simply citing a small podcast called "Full of Sith" - that Dame Judi Dench (of all people) is now in line to play Mon Mothma (of all characters) in J.J. Abrams' sci-fi epic. The source blatantly admits that the story may be "a case of misinformation," and, really, when you look at the evidence it pretty obviously is.
Let's start by talking about Caroline Blakiston. For those who don't recognize the name, Blakiston was the actress who first portrayed Mon Mothma back in 1983's Star Wars Episode VI: Return of the Jedi. If Blakiston were retired from the acting world it might be conceivable that the production would recast the part (which was frankly a pretty small part to begin with), but that's not even the case, as the actress has continued doing film and television work and even appeared on an episode of the BBC series Father Brown earlier this month.
Even ignoring Blakiston, however, let's just think about the character of Mon Mothma for a second. While she was shown as a leader of the Rebel Alliance in the third Star Wars film, it was hardly a major part, and it's hard to imagine that it would be one that would be expanded in Episode VII. And if the production is actually looking at Dame Judi Dench (which I can't deny is a possibility given the fact that everybody is going out for a role) wouldn't it make a lot more sense that she would be playing a new character? There's not a whole lot of this that adds up or makes sense.
Until Disney and Lucasfilm actually start announcing some official casting news for Star Wars: Episode VII we are guaranteed to keep seeing stories like this for weeks and weeks to come. I look forward to the point in time when the number of real Star Wars stories outweighs the number of Star Wars rumors.
Assistant Managing Editor
NJ native who calls LA home and lives in a Dreamatorium. A decade-plus CinemaBlend veteran who is endlessly enthusiastic about the career he's dreamt of since seventh grade.
Your Daily Blend of Entertainment News
Thank you for signing up to CinemaBlend. You will receive a verification email shortly.
There was a problem. Please refresh the page and try again.