Juliette Lewis Joins Jem And The Holograms In Mysterious Role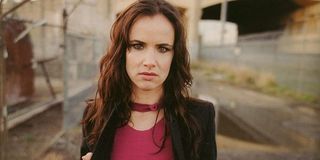 Production is underway on Jem And The Holograms, the live-action adaptation of the 80's animated series. The Holograms have already been cast. The rest of the call sheet is about to fill up with new names. And while Jem And The Holograms are young, they're about to come face-to-face with a woman who, by now, has logged a lot of hours rocking and rolling.
Juliette Lewis is joining Jem And The Holograms, reports Deadline. Though her role is as-yet undisclosed, it's likely they'll be recruiting her for her musical chops. Lewis has been in two bands, Juliette And The Licks and The New Romantiques. She's compared her voice to Bon Scott's, though to be honest it sounds like there's a bit of Perry Farrell there as well. Catch a listen to Juliette And The Licks with Hot Kiss below.
Given that Juliette Lewis and her band comes pre-prepared, is it possible they're pursuing an old-young dynamic with the competition against the Holograms: is Ms. Lewis going to be fronting the Misfits? The Misfits were a band that frequently opposed Jem And The Holograms on the tracks, but they were usually chasing the same demographic. There's always been a glammy edge to the Holograms music, whereas Lewis' voice is definitely better suited to a bar rock band. Maybe the movie has some sort of pub band revival going for it?
Or maybe Lewis fronts a new interpretation of The Stingers, another rival band, one fronted by men? Lewis is a versatile enough actress that we'd love to imagine her in any of these roles, though if anyone remembers Drew Barrymore's Whip It, they know Lewis has it in her to be one nasty mama. Can someone call up Gina Gershon, she of Prey For Rock And Roll? Maybe some of these lady actor-rockers with experience can pop up in Jem and the Holograms to show the young ladies a thing or two.
Juliette Lewis appears to be jumping on-board immediately, as once production halts, she's headed back to television. She'll be seen in this fall's Secrets And Lies on ABC playing a detective pursuing the probably-guilty-but-maybe-not accused child-killer Ryan Phillippe. And in midseason, she'll be popping up on Fox's Wayward Pines, an oddball small-town sci-fi mystery. Both of these shows look like they're being considered as miniseries, suggesting that even if the ratings take off, Lewis will be back on the screen in a hurry.
Your Daily Blend of Entertainment News