The Jungle Book Looks Like It's About To Have A Gigantic Opening Weekend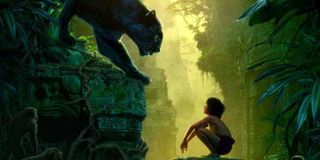 2016 has been a good year for Disney so far. They started out with on their biggest animated films in years with Zootopia. The movie has done huge box office numbers and is nearly universally loved by critics. If past is prologue, the studio may be about to repeat that success. The Jungle Book has been receiving equally glowing reviews, and it's now set up to have an equally big opening weekend. Estimates are putting it somewhere in the range of $70 million.
Last weekend the Melissa McCarthy comedy The Boss was able to slightly edge out Batman v Superman: Dawn of Justice to win the weekend box office but as both films have received poor reviews it's unlikely either will see a strong weekend coming up. That leaves The Jungle Book ready to pounce on a wide open box office. According to Variety, The Jungle Book is expected to land anywhere from $65 million to $75 million. This would put it about on par with Disney's previous live-action remakes, Cinderella and Maleficent, which both came it at just under $70 million in their opening weekend. Both also went on to gross over $200 million at the US box office alone.
Of course, the other thing that Zootopia may imply for the future of The Jungle Book is the degree to which success was underestimated. The predictions for the animated feature's opening weekend were in the area of $60 million, but the film went on to gross $75 million. Zootopia currently Disney's second highest grossing animated feature. Though, to be fair, it's a long way behind Frozen. If The Jungle Book is able to exceed expectations to an equal degree we could see an absolutely epic opening weekend.
The current record holder for an April opening weekend is Furious 7 at over $147 million. An opening at $70 million would put the The Jungle Book in competition for the number four spot, currently held by another entry in the franchise, 2009's Fast and Furious.
Disney is certainly counting on The Jungle Book to be big. They're already trying to get Jon Favreau signed on to direct a sequel before the first film is even in theaters. Disney currently has release dates sets for four more live-action fairy tale films through 2019, and they have way more than that currently in development. If The Jungle Book does as well as it appears it will, you can be sure this trend will only be continuing.
CinemaBlend's resident theme park junkie and amateur Disney historian. Armchair Imagineer. Epcot Stan. Future Club 33 Member.
Your Daily Blend of Entertainment News
Thank you for signing up to CinemaBlend. You will receive a verification email shortly.
There was a problem. Please refresh the page and try again.