See Chris Pratt Taking LEGO Chris Pratt On A Jurassic World Global Tour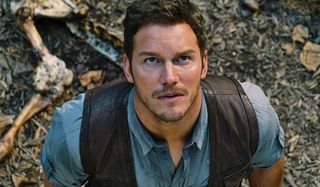 If Chris Pratt were to be caught quoting the famous line from Scarface, "say hello to my little friend," he just might mean it literally. While the actor is riding high with the nearly $1.5 billion current global gross of Jurassic World, he seems to be fixated on one aspect that the project yielded: his own LEGO mini figure. On a globe-trotting tour to promote the mega-movie, Pratt has been Instagramming the hell out of that little piece of plastic in front of some iconic sites in something akin to a Travel Channel program that, unfortunately, will never get made.
Here, the Instagram adventures of LEGO Pratt portrays a London reunion with the mini equivalent of his wayward velociraptor pack favorite, Blue in front of Buckingham Palace. Together, they're ready to give those stoic guards a true test of their reputed legendary composure, while possibly dropping in on 'ole Queen Liz for a spot of tea and some crane-lowered live cows.
While LEGO Pratt doesn't speak German any more than Owen Grady speaks Navajo, he decided to take JFK's boasting phrase, "Ich bin ein Berliner" a step further by standing tall (as possible) atop his motorcycle, brandishing some blunt, kid-safe hardware. It's a clear message to those non-existent East Germans that the people of Jurassic World stand with the West.
Steven Spielberg may have passed on making a franchise comeback to direct Jurassic World, but that didn't stop LEGO Pratt from performing this E.T. tribute of sorts in this video shot in front of the currently graffiti-covered centerpiece monument in Paris' République Square. It's a skill that will come in handy should he encounter an irate mini Indominus Rex.
Finally, it appears that LEGO Pratt took some time to enjoy the simple things in life, bringing of few of his velociraptor bloodhounds on a relaxing endeavor in a Japanese water garden. The hints were visibly subtle, implying that there are plenty of FISH in the sea on which they can voraciously hunt and not have to continue eating peoples' faces. Whether or not these "clever girls" got the message remains to be seen.
Kidding aside, these posts showing Chris Pratt's excellent sense of humor and down-to-earth attitudes serve as a prime example as to why he has risen so quickly to become one of the most beloved figures in the movie biz, even outside the big screen. The lead he landed in last year's Guardians of the Galaxy as Star-Lord has been quickly parlayed into his current lucrative lead role in Jurassic World, solidifying him as a bankable star. That spectacular momentum will only continue in a co-starring science fiction effort with Jennifer Lawrence in next year's Passengers and a key role in the 2017 remake The Magnificent Seven.
Aside from those huge projects, Guardians of the Galaxy Vol. 2 will be dusting off a new mix tape to hit the cosmos on May 5, 2017. By then, we'll likely know more about a potential Jurassic World role reprisal in a prospective follow-up film, which would be especially good news for the further adventures of LEGO Pratt.
Your Daily Blend of Entertainment News