Jurassic World May Push The 2015 Box Office To Record Numbers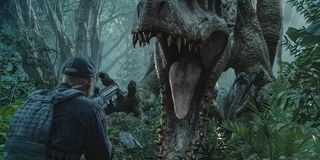 Just in case you missed it, Jurassic World, the fourth installment in the Jurassic Park franchise, had a solid opening weekend. In fact, it had the highest grossing domestic debut and the highest grossing global opening ever. Not only is that good new for Universal Pictures and everyone involved in the newly invigorated franchise, but it also had a sizeable impact on the state of the movie industry as a whole.
According to The Wrap, the spectacular opening of Jurassic World put 2015 back on track to be a record breaking year at the box office. Things had been veering off track for the last three weeks, starting with a lackluster showing over Memorial Day Weekend, which has traditionally served as the unofficial start of the summer blockbuster season.
That changed, however, thanks to a massive haul for the Colin Trevorrow-directed dinosaur adventure. Not only did it earn $208.8 million domestically, but it added another $315.3 million to that globally, for a whopping total of $524 million. And just for good measure, it tacked on another $25 million on Monday.
This massive infusion of cash propelled 2015 back ahead of this time in 2014 by 4 percent. It is also now 7 percent ahead of 2013, which, with a $10.9 billion total, is the highest grossing year ever. Some have even forecast that, if this pace holds, 2015 could top the $11 billion dollar mark and etch its name in the record books. In addition to Jurassic World, this is thanks in large part to movies like Furious 7 and Avengers: Age of Ultron, both of which leapfrogged the $1 billion threshold and currently sit among the top five earning films of all time.
And there are still a number of big films on the docket this year. Pixar's Inside Out opens this week; Terminator Genisys could be huge, though a lot of people are wary of that one; the Despicable Me prequel, Minions, is yet to come; The Hunger Games finale, Mockingjay—Part 2, drops this November; and after Skyfall earned more than $1 billion, expectations for James Bond's next adventure, Spectre, are through the roof. Then there's a little movie called Star Wars: The Force Awakens opening at the end of the year that could do pretty well, not to mention Fantastic Four, The Good Dinosaur, Ant-Man, and more potentially huge movies on the way.
With a schedule like this ahead of us, that post-Memorial Day lull may very well turn out to be an anomaly. We'll have to wait and see, but there are sure to be some big earners opening between now and the end of 2015.
Jurassic World is currently stomping through theaters, and we expect to hear sequel news any day now. Star Chris Pratt has said he's signed up for more movies, and though director Colin Trevorrow won't be at the helm, he's said he'll still be involved in a writer and producer capacity.
Your Daily Blend of Entertainment News