Jurassic World Writer Hired To Fix King Kong: Skull Island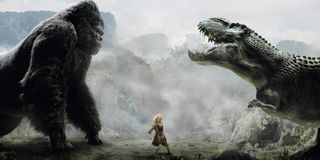 Derek Connolly, one of Colin Trevorrow's frequent collaborators, helped make Jurassic World the third highest-grossing movie of all time in co-writing the script. Can he bring the same magic touch to another island full of monsters?
According to The Hollywood Reporter, Connolly has been tapped to work on the script for Kong: Skull Island, a prequel of sorts to the story of King Kong. A handful of writers worked on the script previously — Max Borenstein of Godzilla, John Gatins of Flight, and Dan Gilroy of Nightcrawler — though the trade states that Connolly's role is to perform "some late minute work."
Marvel star Tom Hiddleston and Short Term 12's Brie Larson are headlining the creature feature alongside Corey Hawkins, who recently starred as Dr. Dre in Straight Outta Compton. In addition to the script, the casting underwent a few shakeups. Birdman's Michael Keaton and Whiplash's J.K. Simmons were once attached to the project, but both ended up bailing. Now with the film's planning for a late October production start in Hawaii, before moving on to Iceland and Vietnam. Legendary and Universal are deep into casting. Some names tossed around for replacements and additional castings are Samuel L. Jackson, John C. Reilly, Russell Crowe and Tom Wilkinson.
Specific plot details on the film are unknown at this time, but when the project was first announced during Comic-Con a couple years ago, Legendary stated the film would fully immerse audiences into Skull Island. In addition, the studio said it honors the traditions and lore of King Kong, while placing the setting in a new timeline.
Given Borenstein's presence on the script and the announcement's close proximity to Gareth Edwards' Godzilla remake, rumors began swirling about a potential cinematic universe around Legendary's platter of monster movies. Though, at this point, it seems just like a nice thought. However, as we've seen from the original King Kong and Peter Jackman's remake, there are a number of gargantuan beasts that prowl the island, including vicious lizards, oversized creepy crawlies (that's the scientific term), and, yes, dinosaurs. You can't have a Kong remake without featuring the giant gorilla's battle against a T. Rex, and Connolly knows a thing or two about fights with dinosaurs.
Kong: Skull Island is currently set for release on March 10, 2017, and Brie Larson has been busy tweeting about her casting. She first shared a special invitation from Kong himself, and the second was a photo of the actress presumably on location with the caption "prepping for Kong." Let's hope she isn't written out! (Kidding.)
Your Daily Blend of Entertainment News