Justice League Movie Gets New Life At Warner Bros.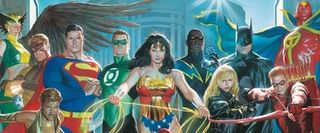 Come on, you didn't think DC was going to sit back and let Marvel steal all the superhero movie attention, did you? Sure, The Avengers has swiftly become the biggest superhero movie of all time, but DC Comics has their own equivalent of their super powered team in the Justice League, and now a movie featuring all those characters has found a new lease on life. Variety reports that Warner Bros. has brought on Gangster Squad screenwriter Will Beall to turn in a new Justice League movie script-- and Beall has actually been on the job since last year, though he's yet to turn in a script.
You may remember that a Justice League movie has been in the works for, like forever-- we ran a story with the ominous headline "Justice League Movie Coming" in February of 2007, back when Warner Bros. was still talking about getting a Batman vs. Superman movie going. The closest the project came to reality was back in 2008, when George Miller was planning to direct it with Armie Hammer as Batman, D.J. Cotrona as Superman, Adam Brody as the Flash, Common as the Green Lantern, and other casting choices that seem impossible to believe now. The movie fell apart, like so many things do, thanks to budget issues, and probably also the ongoing success of Christopher Nolan's Batman franchise that made it seem irrelevant. But with Nolan's Batman wrapping up, Zack Snyder's forthcoming Superman: Man of Steel might offer a new entry into the kind of omnibus film Marvel started building to with Iron Man.
Crazy as it seems now, The Avengers was a gamble, and DC's Justice League would be a big one too, especially with the recent failure of The Green Lantern having us wonder if the DC stable is strong enough to bring in Avengers-level interest. DC diehards, feel free to contradict me, and suggest your own ideas of how DC will make a Justice League movie possible in the near feature. We knew it was inevitable, but now it looks like we might see it sometime before the decade is out.
Your Daily Blend of Entertainment News
Staff Writer at CinemaBlend
Your Daily Blend of Entertainment News
Thank you for signing up to CinemaBlend. You will receive a verification email shortly.
There was a problem. Please refresh the page and try again.