Kate Beckinsale Get Unfrozen In First Trailer For Underworld: Awakening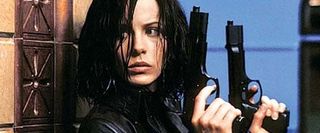 There have been three Underworld films before now, and while none of them really has anything new to offer over the others, they're all pretty fun to watch. I mean come on, who doesn't love a bit of vampire on werewolf violence, eh? It's even the best part of the Twilight movies.
Well, a fourth Underworld film looms on the horizon, now called Underworld: Awakening. It presents an imprisoned Selene, played by a returning Kate Beckinsale, with a new world where humans have entered the battle, eager to hunt and kill vamps and Lycans alike. Joining the cast this time around is Charles Dance, who you may recognize as Tywin Lannister in HBO's Game of Thrones. The first trailer has appeared online so have a peek below.
Before you even reach the end of the trailer, they make sure you know that this movie is going to be exploiting every possible use of 3D in the book. Watching the trailer almost feels unnatural without a pair of glasses on, seeing as in this short trailer they send every projectile they can find directly at the camera. It's a bit annoying really.
However, if you're going to an Underworld movie chances are you know what you're getting yourself into and you're not sitting down expecting some Oscar winning stuff. The Underworld films has always delivered big fun and Awakening doesn't seem like it's going to be an exception.
Your Daily Blend of Entertainment News
Thank you for signing up to CinemaBlend. You will receive a verification email shortly.
There was a problem. Please refresh the page and try again.