The Hysterical Difference Between Matthew McConaughey And Reese Witherspoon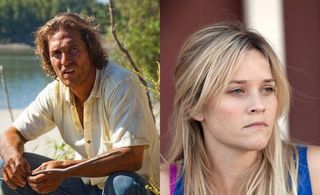 Reese Witherspoon has revealed that she and Matthew McConaughey had hugely different lifestyles while filming 2012's gritty Southern drama, Mud. And, to be honest, it sounds as if McConaughey's diet and surroundings were both a lot healthier and less depressing than hers.
According to Yahoo Movies, Witherspoon made her remarks at a tribute to the Oscar-winning 44-year-old actor that was conducted by American Cinematheque at the Beverly Hills Hilton earlier this week. She was joined by a cavalcade of other Hollywood actresses, each of whom regaled the crowd with a variety of stories that revolved around Matthew McConaughey's peculiar, yet loveable, antics. But it was Witherspoon's comments about shooting Mud that proved just how relaxed Matthew McConaughey can be when it comes to his roles.
Reese Witherspoon explained that while filming the well received, Jeff Nichols-directed Mud, she had to stay in a motel that was ravaged by fleas while she also had to eat McDonald's constantly too. "I'm down to earth, but I'm not that down to earth," she confessed. Witherspoon failed to add whether she lived in such a fashion in order to get into the mindset of her character or because of the film's limited budget. Either way, it doesn't sound as if she enjoyed this short period of her life.
This was made all the more painful for her when she received a photograph from Matthew McConaughey, who was playing Mud's titular character, on the set of the film BBQ-ing outside of his trailer with his wife Camila and their children. The Dallas Buyers Club actor even decided to add a devastating caption just to tease Witherspoon, which read, "Having the time of my life … choosing to live off the land." You can check out a snippet of Matthew McConaughey's intense yet magnetic performance in Mud courtesy of the clip below. It's rather magnificent. Sam Shepherd is rather amazing in it, too.
It seems as though the event to commemorate Matthew McConaughey's varied career was a rather delightful soiree. Alongside Witherspoon's tale, Kate Hudson recalled how she came across McConaughey stood naked on a rock yelling "Whoo! Whoooo!" during a vacation with friends, Sandra Bullock admitted that he praised her "smaller bust," Jennifer Garner noted that he helped her get through breast-feeding issues while on the set of Dallas Buyers Club, his Interstellar co-star Anne Hathaway announced that he got her drunk, and Christopher Nolan proclaimed that he made him look like a bad father. All while the man of the hour knocked back a few beers and joyfully listened to his pals' tales about his antics. Sounds like fun times all around.
Your Daily Blend of Entertainment News