Kate Mara And Treat Williams Join Cast Of Indie Crime Drama Blackbird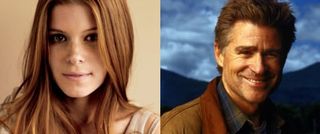 Kate Mara and Treat Williams are co-stars in one of this year's Best Picture nominees, but I bet I could give you 5 minutes and you wouldn't be able to remember which one. The two are among the actors glimpsed briefly and memorably in 127 Hours, Mara as one of the female hikers Aron Ralston runs into just before getting trapped beneath a boulder, and Williams as the father glimpsed in flashbacks. Mara and Williams were likely never near the set together, but now they'll get the chance to work together properly. Variety reports that they've both signed on for Blackbird, the indie crime thriller formerly known as Kin that also stars Eric Bana, Olivia Wilde, Sissy Spacey, Kris Kristofferson and Charlie Hunnam.
Hunnam is the main character, a boxer recently released from prison; Spacey and Kristofferson play his parents, Bana and Wilde are a pair of fugitives who cross his path, and Mara and Williams will play a father-daughter team who run into him as well. Austrian director Stefan Ruzowitzky, who made the surprise Best Foreign Language Film Oscar winner The Counterfeiters, will be making his English-language debut with the film, which starts production next month in Montreal. It's a seriously impressive cast, especially for a director so new, though it'll be interesting to see if Ruzowitzky can wrangle what sounds like a lot of plot threads. Then again everyone thought 127 Hours was way too challenging to work, and Mara and Williams know firsthand how that turned out.
Your Daily Blend of Entertainment News
Staff Writer at CinemaBlend