Katherine Heigl's One For The Money Now Opening Opposite X-Men: First Class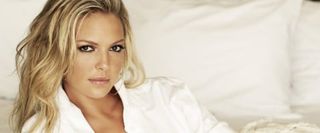 One for the Money, the latest attempt to make Katherine Heigl a genuine movie star, had been scheduled to open as counterprogramming against the Kevin James vehicle The Zookeeper on July 8. Apparently feeling confident about what they have, the studio has decided to bump the film's release date up to June 3 and go up against an even bigger target: X-Men: First Class. The newly updated release schedule at Box Office Mojo has One for the Money, based on the Janet Evanovich novel about former lingeries buyer-turned-bounty hunter Stephanie Plum, opening the same weekend as the mammoth superhero franchise reboot, with just the indie drama Beginners also in there as possible competition.
Heigl hasn't had a good run at the box office in the last year, with both the romantic drama Life As We Know It and the romance caper Killer underperforming, but neither of them were outright flops either. WIth Heigl stepping out of the straight-up romance mode and playing a bounty hunter instead, it's possible to see her revamping her image as the fussy, stuck-up rom-com queen and bringing in some new fans. It helps that she'll be playing the character who starred in a series of best-selling books-- there's nothing that benefits a summer blockbuster more than a built-in audience.
Below is the novel's plot description, via Wikipedia.
Staff Writer at CinemaBlend
Your Daily Blend of Entertainment News
Thank you for signing up to CinemaBlend. You will receive a verification email shortly.
There was a problem. Please refresh the page and try again.