Keanu Confirmed For Constantine 2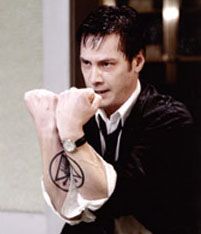 Keanu Reeves' demon fighting film Constantine didn't exactly kill here in the United States, but it took international markets by storm. The film made $154 million worldwide, and only $75 million domestically. Those big international numbers may be enough to justify a sequel.
Warner Brothers super-producer Lauren Shuler Donner says that Constantine 2 is a definite possibility. In an interview with IESB, she says that not only might we see a sequel, but that Keanu will return. "Yes, with Keanu [Reeves]. We have been working with a team of writers to come up with a story and yeah, you will."
They want to do it, they're working it, but how long until we see it? Apparently they've hit a roadblock. She says, "our movie is out to a director that is filming. Understandably, he cannot take the time to read the script because he's filming, but he wants to, he has expressed a desire to make the movie and we very much want him to, so you tend to want to wait for that, you know." Maybe she should have a word with New Line Cinema about waiting for Peter Jackson.
So assuming the sequel happens, what's in store? She says more scares, and a different location. They're taking it out of America, but she's not saying where except to confirm that it's not London.
As for Keanu, he's currently sitting around in an apartment somewhere. He's attached to a couple of projects, but nothing currently filming. Should they get this thing movies, it looks like Reeves will be ready to go.
Your Daily Blend of Entertainment News