Kerry Bishe A Late Addition To Ben Affleck's Argo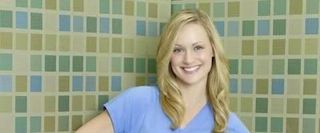 Kerry Bishé is not an actress you are likely to recognize offhand. She had an impressive thirteen-episode stint on Scrubs and was recently among the cast of Kevin Smith's controversial Red State. Yet still she is an actress in search of that one big break. According to The Hollywood Reporter, she may get another shot at that break in the Ben Affleck directed Argo. The film tells the dramatic story, based on true events, of how the CIA used a bogus Hollywood film production to smuggle U.S. diplomats out of Iran during the 1979 hostage crisis. Clearly, this is the awesome detail about the crisis they forgot to teach us in history class.
[[ br. playing federal operative posing as fake set designer. she has play role within something extremely difficult any actor to pull off. this sounds like it be quite test her acting prowess. standing out amongst the already staggering cast of established performers will also prove a challenge for ]] Argos has already lined up John Goodman, Bryan Cranston, Kyle Chandler, Tate Donovan, Alan Arkin, and Affleck himself. On the less y-chromosomal side of things, the cast also boasts Adrienne Barbeau and Clea DuVall. Hopefully, Bishé is ready to fight to command every second of her screen time.
The good news for Bishé is that Affleck has already established that he is a competent enough director to pull fantastic performances from his actors. Jeremy Renner and Amy Ryan were both nominated for their performances in The Town and Gone Baby Gone respectively. Even if she isn't on screen much, Affleck will surely help her make the most of it. It would appear Ben Affleck thoroughly enjoyed Red State as he has not one, but three of its cast members signed on to Argos. Bishé reteams with her Red State co-stars John Goodman and Michael Parks, though it isn't known yet how integrally any of them will fit into the plot. Given Affleck's long association and friendship with Kevin Smith, this seems quite fitting.
From Argo, Bishé will next co-star in Newlyweds for director Edward Burns with whom she just worked last year on Nice Guy Johnny. Perhaps the impetus for working with Affleck in between has to do with a clause in her contract involving repeatedly working for Edward Burns or as many Edward Burns look-alikes as possible. Argo is currently shooting in L.A.
Your Daily Blend of Entertainment News
Thank you for signing up to CinemaBlend. You will receive a verification email shortly.
There was a problem. Please refresh the page and try again.