Kevin Hart Rips Hater Who Thinks He Makes Stereotypical Movies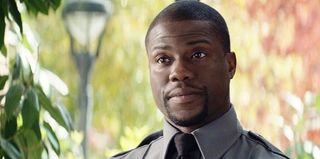 With the controversy over the lack of diversity in this year's Academy Awards nominations, the talk of boycotts, and more, the issue of race in Hollywood has been even more of a hot button topic lately than usual. Many celebrities are chiming in with their opinions, and Kevin Hart just straight up ripped a fan to shreds for criticizing the comedian for only making "stereotypical" movies.
This is also a good reminder to be wary of what you say online. Just because it so often feels like social media is yelling into the void and no one is listening, there are people out there. And sometimes if you say some shit, you're going to get called out. Here's the tweet that started it all.
The Ride Along 2 star and stand up comedian did not take particularly kindly to the insinuation that he only makes "stereotypical" movies. He even took some time out of his increasingly hectic schedule to respond with a bit of a Twitter rant.
He took her, and others, to task for a lack of support, suggesting an approach to build each other up instead of tearing each other down.
He also said that his movies aren't just for black audiences, that he wants his movies to be for everyone. Part of his popularity is that Hart has appeared in a wide variety of roles and movies, costarring with some of the biggest stars in Hollywood, like Will Ferrell and Dwayne Johnson.
And it sounds like he has hope for a future where movies are no longer so quickly categorized and stuffed into a particular niche, where people will go see a film, or not, based on it's merits rather than a by a too-easy-to-apply label.
Kevin Hart has been on a raging hot streak the last few years. Ride Along surprised a lot of people by earning $154 million at the box office, and the sequel opened earlier this month and won its opening weekend. He's hosted awards shows and continues to play to sell out crowds doing stand up. Things are only looking up, as he will costar with Dwayne Johnson later this year in the action comedy Central Intelligence. And now we know not to cross Kevin Hart on Twitter, no matter who you are, because he will come at you hard.
Your Daily Blend of Entertainment News