Paul Blart: Mall Cop 2 Moving Forward With New Director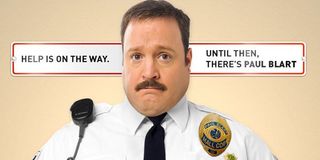 As though this polar vortex nonsense wasn't bad enough, word has come out that Sony Pictures is planning to move forward with a Paul Blart: Mall Cop sequel. 2014 is proving to be a real punch in the teeth so far.
THR reports Sony is in talks with Andy Flickman to helm the Paul Blart: Mall Cop sequel, leaving the first film's director, Steve Carr, out in the cold. Kevin James will reprise his role as the titular mall security officer, and he's once again written the script with Nick Bakay. No details are available regarding what kind of misadventures and mayhem this mediocre mall cop will get up to this time. But we do know James will produce alongside returning producers Todd Garner and Adam Sandler of Happy Madison.
It's not said why Carr, who previously helmed comedies like Are We Done Yet? and Daddy Day Care, won't be back in the director's chair for the sequel. It might be that he's tied down with prior attachments like a Cinderfella remake or that Wedding Day comedy he's been threatening us with. For his part, Flickman has a string of daffy laffers under his belt, including the forgettable Kristen Bell/Sigourney Weaver vehicle You Again, The Rock-fronted family-comedy The Game Plan, and that cross-dressing comedy featuring classic Amanda Bynes, She's The Man. It's easy to see why Sony thinks he's the man for this mission.
It was almost exactly five years ago to the day that Sony unleashed the Kevin James vehiclePaul Blart: Mall Cop onto audiences. Critics collectively loathed the feature, calling it "bad," "hopelessly underwhelming," "unfunny," and a "suckfest." Nonetheless, moviegoers turned out in force spurring the $26 million picture to earn a jaw-dropping $183 million worldwide. Within two weeks of its release the movie had made its first $70 mil, prompting Sony to promise a sequel. At the time a Sony exec noted Happy Madison "has been very reluctant to do sequels," but since then Grown Ups 2 made an insane $246 million worldwide. So really, we only have ourselves to blame for Paul Blart: Mall Cop 2.
While I have zero interest in seeing this sequel, I'm conflicted on how I feel about its existence because-- as I've explained at length--I like Kevin James; I just hate his movies. Moviemakers don't seem to know what to do with James's sweet affability, hefty physique and deft comedic timing. and I had hoped his weight loss and genre shift with Here Comes The Boom would mean a shift in his niche, sending better scripts his way. But Here Comes The Boom came and went with a whimper. Nonetheless, James seems to be in control of his career as a star/writer/producer, and he's choosing Paul Blart: Mall Cop 2. Maybe this will make it better or maybe it will prove that Hollywood is not James' problem; he is.
Paul Blart: Mall Cop is expected to shoot in April.
Your Daily Blend of Entertainment News
Staff writer at CinemaBlend.
Your Daily Blend of Entertainment News
Thank you for signing up to CinemaBlend. You will receive a verification email shortly.
There was a problem. Please refresh the page and try again.