Kevin Smith And Justin Long Want To Make A Zack And Miri Spinoff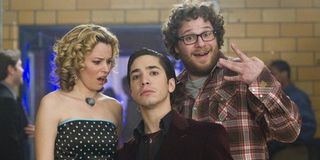 Justin Long has revealed that he would love to team up with Tusk director, Kevin Smith, again to reprise his Zack And Miri Make A Porno character, Brandon St. Randy.
Smith directed Long for the first time in the 2008 sex-comedy, which revolved around Seth Rogen's Zack and Elizabeth Banks' Miri making an X-rated video together in order to raise some much needed funds. Long's Brandon St. Randy, a gay-porn star who Zack starts chatting to at his high school reunion, was one of the best things in Zack and Miri, and it sounds as if he had a blast making it too.
Long declared during a Reddit Q&A session to promote Tusk, his latest film with Smith: "I would love to do Brandon St Randy again – 2 of the most fun days of my life." He then even teased that the duo had even devised a possible spin-off film which would revolve around a road-trip between B.S.R and his boyfriend, Robert "Bobby" Long, who was played by Brandon Routh.
"When he sent me the script for Tusk he prefaced it with a letter in which he said he wanted me to do 'a two-hander character study'," Long explained. "I thought it was the Brandon St Randy/Bobby Long road trip movie." Unfortunately for the actor though it simply "turned out to be a script about a human walrus," something that Smith had "failed to mention in his letter."
Tusk revolves around Long's Wallace Bryton, a podcaster who learns about mysterious seafarer, Howard Howe, played by Michael Parks, who then takes him hostage and attempts to turn him into a walrus. Despite the bizarre premise, Long admitted during his chat with Reddit's legion of users that it didn't take much convincing for him to join the horror extravaganza as he had previously had a blast being on set with the Clerks filmmaker.
"I would've done anything Kevin wanted me to," Long declared. "I was kind of in even before I read the script. It sounds pretty simple and trite but I always try and weigh the potential fun in doing something – Kevin's sets are the most fun – whether you're a gay porn star or a walrus or, maybe one day, BOTH!" Now that's an image.
Clearly Long still holds a flame for his time in Zack and Miri because he even went on to note that his favorite ever film role was as B.S.R. It's just a shame that the film is now regarded as a failure since it flopped at the box-office and ultimately gave the always "bankable" Rogen one of his worst opening weekend grosses.
To call Zack and Miri a failure is still pretty harsh though, since not only did it possess a pretty decent laugh rate and was downright adorable in places, even if the avalanche of raunch did take away from its sentiment, it also introduced the world to Brandon St. Randy. And we can only hope that Long and Smith will eventually return to the character one day. Especially if he's turned into a walrus.
Your Daily Blend of Entertainment News
Thank you for signing up to CinemaBlend. You will receive a verification email shortly.
There was a problem. Please refresh the page and try again.