Key And Peele Team Up With Judd Apatow For Universal Comedy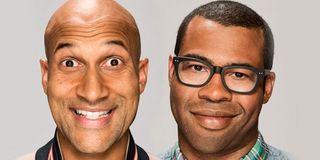 Every time I watch the sketch comedy show Key and Peele I wonder why everyone I know isn't talking about constantly. Starring Keegan Michael Key and Jordan Peele, the show tackles silly subjects like rap battle hype men and the absurdity of college football player names as well as more taboo topics like racism, gun control, and domestic violence. And it does all this with an incisive wit and a dedicated outlandishness. So it's about time moviemakers stood up and took notice.
Deadline reports Judd Apatow is teaming up with Key and Peele to pen a currently untitled comedy for Universal Pictures that will serve as a vehicle for the Comedy Central stars. Apatow Productions will produce, while Key and Peele have signed on as executive producers. Unfortunately, none of the above are willing to share what the logline of their pitch was, but Apatow has stated:
Considering the wide range of characters the pair have played on their show--everything from movie-loving valets, to grieving cops, feuding club girls, and President Obama and his anger translator Luther --it's impossible to guess what setup they and Apatow might have pitched to Universal. But having enjoyed every episode of their show so far, I'm optimistic this movie could be downright outstanding. Of course, it helps that Apatow has a clear understanding of the cultural zeitgeist and a sense of humor that blends raunchy and heartfelt in a way that appeals to the masses.
Among his huge hits are The 40-Year-Old Virgin, Knocked Up, Superbad, Forgetting Sarah Marshall, and of course Bridesmaids. All of these earned between $100 million to $288 million worldwide and launched the movie careers of Steve Carell, Seth Rogen, Emma Stone, Christopher Mintz-Plasse, Jonah Hill, Melissa McCarthy and Kristen Wiig. Not to mention McCarthy and Wiig also earned rare Academy Award nods for comedy in acting and writing, respectively. Basically, this could be the start of the project that blows up Key and Peele. But fans of the show, don't fret. The guys have already committed to season four, so we won't have to give up their weekly dose of hilarity and satire anytime soon.
In case you haven't yet delved into the hysterical wonder of Key and Peele, I suggest indulging in the following clips. And if you're already a fan, share your favorite sketch below.
Your Daily Blend of Entertainment News
Staff writer at CinemaBlend.