Kick-Ass Will Inspire At Least 2 More Movies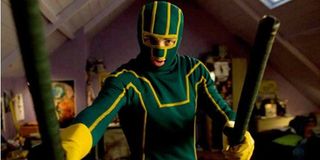 Matthew Vaughn has admitted that plans are currently afoot to reinvigorate the Kick-Ass franchise, and he believes that before they create a Kick-Ass 3, they'll need to win back fans with a prequel. And in order to do just that, Vaughn has revealed that they are looking to tell the story of how Hit-Girl and Big Daddy rose to be such impressive ass kickers.
The English director made this admission while talking to Yahoo Movies to promote Kingsman: The Secret Service's released on home entertainment. After revealing that he's "not happily done with the franchise," Matthew Vaughn outlined his ambition to reboot the series. And his description of their intended prequel will have moviegoers leaping for joy with anticipation. Vaughn explained that they're working on an idea that would be an origin story for Hit Girl (Chloe Grace Moretz) and Big Daddy (Nicolas Cage), mapping out how they became these costumed vigilantes.
But there's a very good reason why Matthew Vaughn feels that the Hit-Girl and Big Daddy prequel will need to be created before Kick-Ass 3. Vaughn believes that the franchise needs to win back the trust of the original's fans in light of the relatively poor response to Kick-Ass 2. Vaughn explained:
Now fans of the original, and there are plenty of us out there, will be fully aware that in Matthew Vaughn's gory but glossy adaptation, Chloe Grace Moretz and Nicolas Cage played the aforementioned duo to such a captivating extent that you immediately wanted to become a part of their murderous family.
Those of you who haven't seen Kick-Ass probably shouldn't read ahead because there's one rather big spoiler about to be mentioned. Are they gone? Good. Of course, by the end of Kick-Ass though Big Daddy has met a rather fiery death, so the only way to re-team Cage and Moretz would be to take a look at their origin. But Moretz is only getting older, so in order to do the possible prequel justice, they will have to get the ball moving rather quickly.
And Matthew Vaughn is currently in the prime position to get Big Daddy and Hit-Girl's solo installment green-lit after the success of Kingsman: The Secret Service earlier this year. Made on a budget of $81 million, which Vaughn stretched to make his film as arresting and stylish as any other blockbuster this summer, Kingsman grossed $403.7 million and was met with generally positive reviews. He's currently not attached to direct any future projects (though he's rumored to be interested in Kingsman 2), so there's every chance that his next step will be to return to the Kick-Ass well for further rollicking adventures.
Your Daily Blend of Entertainment News
Thank you for signing up to CinemaBlend. You will receive a verification email shortly.
There was a problem. Please refresh the page and try again.