Kick-Ass Almost Spun Off This Side Character For A Franchise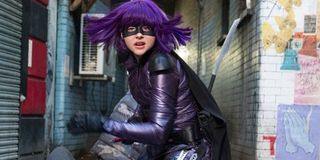 The comic book film adaptation, Kick-Ass was somewhat of a minor miracle when it was released back in 2010, since it managed to take an obscure cult favorite series and bring it somewhat faithfully to life on the big screen for a major wide release. It did…okay. Its 2013 sequel, however, would bring in a lot less than "okay." In a recent revelation, it seems that because of that poor performance, a planned spin-off film for the scene stealing fledgling femme fatale, Hit-Girl will never see the light of day.
In an interview with IGN, Kick-Ass author Mark Millar, promoting his latest film project Kingsman: The Secret Service, has looked back lamentably at how the future that he planned for the Kick-Ass film franchise fell apart. There was evidently hope that the sequel could eventually land a feature spin-off for Chloe Moretz's Hit Girl. The comic writer said,
The director that Mark Millar mentions, Gareth Evans, is best known for creating the acclaimed Indonesian action film franchise, The Raid, having written and directed the 2011 first film, its 2014 sequel, and its upcoming third film. Oh, and he will be writing the script to its American remake starring Taylor Kitsch and Frank Grillo. The series is known for its over-the-top brand of kung-fu style action along with its innovative cinematography. This definitely makes us wonder what his Hit-Girl spin-off movie could have been.
It really is a shame. The first Kick-Ass really did manage to catch the essence of realism relating to what would happen if a teenage boy with no formal combat training attempted to dress up in a funny-looking green costume and fight crime by night. Basically, he would get his ass KICKED. And while what we saw lacked the over-the-top brutality of Millar's comic series, the point was conveyed. Besides putting the man who would later call himself Aaron Taylor-Johnson on the mainstream map, 2010's Kick-Ass generated $96.1 million globally at the box-office - a respectable take for what was made on a relatively low $30 million budget. It would also bring the high-profile X-Men: First Class helming gig to director Matthew Vaughn.
However, its prospects of getting a sequel were seemingly unlikely, and for good reason; the first film seemed to hold up on its own and a potential sequel would find itself a dwarf among an evolving field of other comic book properties that were giants. Yet, budgeted even less than its original, the film got made. Unfortunately, the unlikely underdog sequel, directed by Jeff Wadlow, while even brandishing a fascinating role by Jim Carrey, was an abysmal performer at the box office - managing to scrape only $60.1 million worldwide. (Domestically, it barely covered its $28 million budget). The proverbial nail on the live-action coffin of the Kick-Ass franchise had been hammered before the film had even finished its run. Even Hit-Girl, herself, Chloe Moretz has essentially thrown in the towel for any prospect of a return as the psychotic purple-clad coed, acknowledging that she is "done with the character."
Rest in peace, movie Hit-Girl. Here's to hoping you come back in 10 years in a reboot effort that some nameless, faceless Hollywood producer thinks will be a good idea for some unfathomable reason.
Your Daily Blend of Entertainment News