Kung Fu Panda 3 Trailer Packs A Funny And Sweet Father-Themed Gag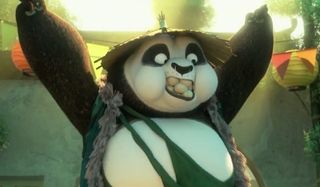 It was just the other day that we saw the first footage of Kung Fu Panda 3. The international trailer released flaunted martial arts action as intense as a DreamWorks animated film can be, stunning visuals and a supernatural minotaur on a rampage. But now the official trailer is here to shed even more light on the upcoming panda-fueled shenanigans. Watch it below.
If the Chinese trailer was all about the action, the U.S. version is all about the laughs. As you can see, our favorite kung fu-practicing panda, Po (Jack Black), is back to training with his buddies Monkey (Jackie Chan), Tigress (Angelina Jolie), Viper (Lucy Liu), Mantis (Seth Rogen) and Crane (David Cross), and their master Shifu (Dustin Hoffman) is accepting nothing but the best from his pupils. Nevertheless, the biggest challenge Po will have to face is hitting close to home: the presence of his father. Li (Bryan Cranston) made a promise to his dying wife that he would track down and reunite with his long-lost son. When they finally meet — though it appears they don't immediately recognize each other, nor do they register the fact that they're both pandas — Po realizes his old man is the master of hanging out. Though it's not clear, his appearance will likely cause some problems with Mr. Ping (James Hong), Po's adopted father. In the meantime, Li takes his son to a secret paradise, where Po discovers that there are loads more pandas than he ever thought.
Elsewhere, we've also learned the identity of the villain, thanks to the official plot synopsis released along with the Kung Fu Panda 3 trailer. His name is Kai and he's a supernatural threat who is on a mission to defeat all the kung fu masters in China. With his glowing green eyes, menacing horns, threatening blades, and god-like strength, he poses a real threat. To defeat him, Po is going to have to train all his laid-back panda brethren the ways of kung fu. One of the new panda additions to the cast is a character called Mei Mei, who is voiced by Pitch Perfect star Rebel Wilson, and is apparently super into ribbon dancing.
The last Kung Fu Panda movie hit theaters in May of 2011, and since then it's been a long ride to get the third installment to the big screen. The studio pushed the release date around multiple times and blamed it on an ever-changing strategy. The latest move brought it out of 2015, where it would've competed with Star Wars: The Force Awakens, and into 2016, where it will now open on January 29, 2016.
Your Daily Blend of Entertainment News
Your Daily Blend of Entertainment News
Thank you for signing up to CinemaBlend. You will receive a verification email shortly.
There was a problem. Please refresh the page and try again.