Kung Fu Panda 3 Introduces Po's Father, See The New Pics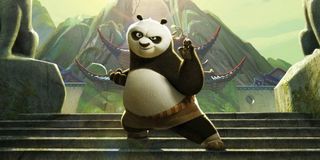 Kung Fu Panda 3 is going to be a big movie for DreamWorks Animation. The studio currently is going through something of a crisis thanks to the failure of their last few movies. However, the popularity of Kung Fu Panda and Kung Fu Panda 2 will mean that DreamWorks Animation is quietly confident they can stop this slide with a third installment to the franchise, especially since we will be introduced to even more pandas in this adventure. In fact, we've been given a sneaky look at the hairy additions to the cast.
USA Today have been talking to Jack Black, who has voiced Po in the first two efforts of the series, about Kung Fu Panda 3. Black explained that Po is overjoyed to find a secret panda village, where he is reunited with fellow members of his species. But the most emotional reunion on the docket occurs when Po comes face to face with his long-lost father Li, who is voiced by the spectacular Bryan Cranston. You can check out a picture of the pair together again below, courtesy of USA Today.
Li is the one who takes Po back to the secret enclave where all of the other pandas have been living since they were mercilessly attacked. This battle was previously alluded to in Kung Fu Panda 2, and, as you can probably guess, Po is overjoyed to see fellow members of the Panda fraternity.
Jack Black also explained that Po struggles around female members of his own species, especially Mei Mei (who is voiced by Rebel Wilson in the sequel), an eager young ribbon dancer that soon befriends our hero.
Po's excitement at finding the lost panda civilization is complicated by the struggles of his protective adopted father Mr. Ping. The noodle shop-owner/duck becomes a tad jealous of Po's burgeoning relationship with his long-lost father. But all of this is overshadowed by the emergence of a new villain to the franchise called Kai, whose impending threat to both the panda village and the entire world provokes Po to train the rest of the pandas how to fight.
The plight of Kung Fu Panda 3 could have huge repercussions for Dreamworks Animation. Home and Penguins of Madagascar's returns of $365 million and $373 million from their $135 million and $132 million budgets respectively weren't really enough to stop the rot after the failure of Mr. Peabody & Sherman, Turbo, and Rise Of The Guardians plummeted the studio into chaos.
They're trusting that the established Kung Fu Panda franchise will help to boost their profits, but if it doesn't, then it could even spell the end of DreamWorks Animation. We'll learn if that's the case soon after Kung Fu Panda 3 is released on January 29, 2016.
Your Daily Blend of Entertainment News