Kylie Minogue In A Lesbian Vampire Movie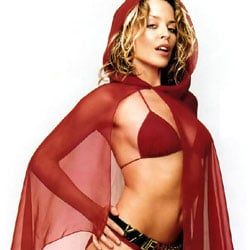 Kylie Minogue is joining the cast of lesbian vampire movie. This would be exciting if it hadn't already been done by Twilight, though I've always thought Edward kind of a funny name for a lesbian. The movie's called Jack and Diane and at one point Olivia Thirlby and Ellen Page were supposed to star in it. Now it looks like they've ended up with lesser knowns in the form of Riley Keough (Elvis Presley's granddaughter) and Juno Temple
The whole thing's a lesbian love story between a teenage werewolf and a teenage vampire. Here's the plot synopsis from IMDB:
It's unclear exactly where Minogue will fit in to the story but the NY Post confirms she'll be a "heavily tattooed lesbian". Here's hoping she also has fangs, though this would have been a lot more exciting ten years ago when Kylie was still considered some sort of sexpot. Now I almost think I'd rather see Betty White.
Whatever Jack and Diane is, it's bound to be better than this:
Your Daily Blend of Entertainment News
Thank you for signing up to CinemaBlend. You will receive a verification email shortly.
There was a problem. Please refresh the page and try again.