The LEGO Batman Movie Will Have A Hilarious Side Plot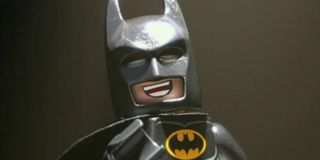 At the moment, any scrap of information regarding The LEGO Batman Movie is being gobbled up fervently by fans of The LEGO Movie… which is pretty much anyone who saw the delightful animated 2013 effort. So the fact that Phil Lord and Chris Miller revealed one of the impending spinoffs side plots during a recent Reddit Ask Me Anything session should please millions.
The writing and directing team took part in online Q&A session over the weekend, and it was during that time that they were asked by one user if there was any chance of possibly seeing The LEGO Batman Movie as a musical, paying off the "Untitled Self-Portrait" song that was sung by Will Arnett in The LEGO Movie. Unfortunately for Hawaiinwil, Miller and Lord confirmed that the film won't actually be a musical – but they did reveal this a fantastic nugget of information regarding the hugely anticipated spinoff that should help up to ramp your anticipation. Wrote Lord,
Well, that certainly sounds like it will be a fruitful comedic avenue to explore. Let's not forget that Will Arnett, who will be reprising his role as Batman for the film, has proven on numerous occasions that his gravelly voice just can't help but be humorous. Especially when he's trying to sing. GOB Bluth and Franklin's song, "It Ain't Easy Being White," was one of the highlights of Arrested Development's tenure, while The LEGO Movie's Batman's Song pretty much summed up Bruce Wayne and his alter ego in one minute and eight seconds.
The LEGO Batman Movie was ordered after the monumental success of The LEGO Movie last year. Not only did Phil Lord and Chris Miller's film defy expectation by proving not just to be an hour and a half advert for LEGO – even though it was still total that too – it was also a sweet, funny and poignant slice of cinema that showed us a side of Batman that we'd never been privy to before.
While Lewis G. Wilson, Robert Lowrey, Adam West, Michael Keaton, Val Kilmer, George Clooney, and Christian Bale have each brought either a light-hearted, relentless pomp or raw intensity to the character, Will Arnett's animated Batman proved to be kind of a dick. And while he was perfect comedic fodder for The LEGO Movie, it's going to be a big task for the film's director Chris McKay and its writer Seth Grahame-Smith to truly bring the superhero to life as a rounded animated character that's still uber annoying.
The fact that Phil Lord and Chris Miller are working as the film's producers means that the project will have two of Hollywood's most critically adored writers and directors on board to assist them in their needs. They've still got a few years to figure out all of the kinks in the project, as The LEGO Batman Movie will be released in 2017, with The LEGO Movie 2 following in 2018.
Your Daily Blend of Entertainment News
Thank you for signing up to CinemaBlend. You will receive a verification email shortly.
There was a problem. Please refresh the page and try again.