The LEGO Batman Movie Will Take This Different Approach To The Dark Knight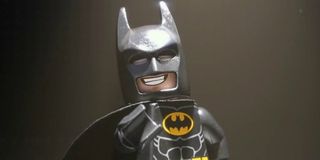 Everything was awesome when The LEGO Movie hit theaters last year, but everything will be even awesome-er when The LEGO Batman Movie swings into action. Co-directors Chris Miller and Phil Lord are bringing back Will Arnett's hilarious character for his own spin-off adventure, and now we finally know what it'll be about! Get ready for a Batman story like none other.
Christopher Nolan's Dark Knight trilogy created a Batman universe that was dark and gritty and brooding, and DC has incorporated this feeling into Man of Steel and, presumably, Batman v Superman: Dawn of Justice. However, Lord and Miller are planning to do away with this vibe and focus more on what made their version of Batman so spectacular.
MTV News caught up with the duo on the red carpet of the National Board of Review, during which time Lord said:
Batman has always been a pretty serious guy on the big screen, and that's 'cause he's had a pretty difficult life. He not only lost his parents at a young age, but they were gunned down right in front of him. And as the Gotham TV show depicts, he didn't handle that all too well. It's an interesting question: can the man who suffered through all of this emotional torment find happiness? Well, if the ending of The Dark Knight Rises is to be believed — and you are also a believer that it's not a dream — then the answer is yes. As Lord teased:
Previously, Lord and Miller promised that all eras of Batman filmmaking will be honored in The LEGO Batman Movie. We presume this means we'll be seeing the versions of Michael Keaton, George Clooney, Val Kilmer, Christian Bale and maybe even our latest Caped Crusader, Ben Affleck. While it's unclear yet whether all these actors will be lending their voices to the film, it'll probably end up happening. There was so much voice talent populating The LEGO Movie, from Channing Tatum and Jonah Hill to Shaq and Billy Dee Williams, that it's not out of the realm of possibility.
The LEGO Batman Movie won't hit theaters until May 26, 2017. We know it's a long time, but remember all the work that went into creating the universe of the first film? That's a lot of LEGOs! Arnett did say, though, that he already got a glimpse of some of the footage, which he called "mind-boggling." Just one of the many perks of being Batman.
Your Daily Blend of Entertainment News
Thank you for signing up to CinemaBlend. You will receive a verification email shortly.
There was a problem. Please refresh the page and try again.