Will Arnett Wore A Piece Of Batman History At The Oscars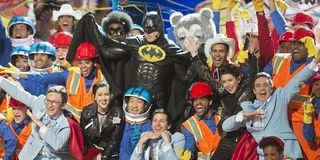 Tegan and Sara's "Everything Is Awesome" Oscars performance was the craziest moment from one of the dullest awards ceremonies of recent memory. The duo got up on the Oscars stage on Sunday to perform their hit, Oscar-nominated song from The LEGO Movie, and they weren't alone. While there were a ton of dancers, Questlove and an "awesome possum," you might have missed Will Arnett. But you definitely didn't miss what he was wearing.
You saw the man in the Val Kilmer-inspired Batman suit, right? He was standing next to Questlove rockin' out on a guitar. According to Chris Miller, who co-directed The LEGO Movie with Phil Lord, that was Arnett. He revealed this fun fact on Twitter during the show.
Arnett voiced Batman to hilarious effect in The LEGO Movie. Thanks to the film and his character's successes, he's getting his own spin-off, The LEGO Batman Movie, which is coming out February 10, 2017. A while ago, Lord said that one of the best perks about researching this film was that they got to try on the Batman suits. I guess he wasn't kidding.
Kilmer's Batman run may not have been everyone's cup of tea, but his suit was pretty awesome. Though, he only remained in it for one film, Batman Forever. Which was a shame, considering it bested its predecessor, Batman Returns, at the box office and earned three Oscar nominations. Kilmer dropped out of the franchise after he reportedly exhibited a bad attitude on the set and thought that the Caped Crusader didn't have enough time in front of the camera. But we're glad to have seen it return for Hollywood's big night. Watch the performance below.
According to Lord, The LEGO Batman Movie will be honoring all eras of the Batman franchise. Though he didn't specifically say, we're assuming this also means nods to Adam West, Michael Keaton, George Clooney, Christian Bale and perhaps even our newly minted Batfleck, Ben Affleck.
"Everything Is Awesome" was one batshit crazy performance, and it should've made everyone scratch their heads over why the film wasn't nominated for Best Animated Feature. We're happy Big Hero 6 walked away with that honor, but we're clearly still sore over the LEGO snub. The filmmakers used actual LEGO sets and figures, mixed with VFX magic, to create the spectacular worlds of the movie. Even the flaming explosions were made of LEGO bricks. We can only hope the Academy voters realize their mistake in the future. There's still hope for The LEGO Movie 2, the Batman spin-off or that Ninjago movie.
Photo Credit: ABC
Your Daily Blend of Entertainment News
Thank you for signing up to CinemaBlend. You will receive a verification email shortly.
There was a problem. Please refresh the page and try again.