Latest Gone Girl Trailer Places All Of The Blame On Ben Affleck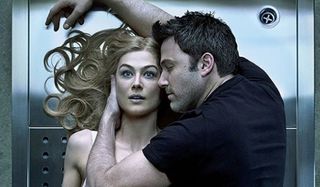 What happened to Amy Dunne? That's the question that plays at the center of David Fincher's latest, Gone Girl. In the trailer up top, we see this query explored along with some new footage featuring Ben Affleck, Neil Patrick Harris, Carrie Coon, Rosamund Pike and Tyler Perry.
Based on the must-read novel of the summer of 2012, Gone Girl centers on Nick Dunne (Ben Affleck), a washed up writer who has been mired in an unhappy marriage with his lovely wife, Amy (Rosamund Pike). As the trailer teases, the two's initial spark of passion has sputtered out, but has it become something dangerous? After Amy goes missing and the details of their breaking marriage hits the news, cops, friends and family members begin to wonder if Nick killed his wife. It's a big question that this anti-hero refuses to answer in the trailers.
What could have been a run-of-the-mill crime thriller became intensely enticing when David Fincher signed on to helm the adaptation of Gone Girl in March of 2013. The book's author, Gillian Flynn, was brought on board to pen the screenplay, and she caused a stir when she confessed the movie would have a different final act from the book. But it was the casting of this dark drama that really got tongues wagging.
In the summer of 2013, Fincher selected Ben Affleck for the role of Nick Dunne, a surprising choice to many fans of the book who expected an actor who might seem more sinister. From there, Fincher reportedly had his pick of a long list of acclaimed actresses. But it was English beauty Rosamund Pike who beat out her American peers to win the role of Amy Dunne. After these two compelling but unexpected picks, things got really weird.
Next, Fincher pulled in Neil Patrick Harris and Tyler Perry, followed by Emily Ratajkowski, one of the models who flirted and flaunted in Robin Thicke's controversial "Blurred Lines" music video. But it seems that all these unconventional casting choices are paying off. Gone Girl has some serious buzz leading up to its fast-approaching opening. Right ahead of its theatrical debut, the star-studded thriller will make its world premiere on the illustrious stage that is The New York Film Festival. As soon as October hits, the movie will be unleashed around the world, opening everywhere from the United Arab Emirates and Argentina to Azerbaijan and Kenya.
Gone Girl will hit theaters in the U.S. on October 3rd.
To see more footage from David Fincher's Gone Girl, click to page 2.
Staff writer at CinemaBlend.