Latest Jurassic Park IV Rumors Tease Aquatic Dinosaurs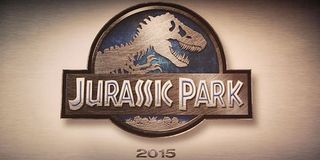 With the first three films raking in a combined box office gross of over $812 million dollars, rumors about a fourth installment of Jurassic Park have been floating around for nearly a decade. But earlier this year Jurassic Park IV make a giant step towards becoming a reality when producers named Colin Trevorrow, helmer of the bittersweet sci-fi indie Safety Not Guaranteed, as the project's director. Since then details on where this latest adventure would lead have been frustratingly few and far between.
The biggest break so far has been the promise from paleontologist/film consultant Jack Horner that a dinosaur never before featured in a movie would make its big screen debut. According to Horner, it's one that will make you "want to keep the lights on after you see this movie." Later Trevorrow got the web buzzing when he tweeted a location scout image that teased a return to Isla Nublar, the island where well-meaning but short-sighted millionaire John Hammond set up the titular park in the first movie. Sadly, earlier this month Jurassic Park IV's makers delivered the unwelcomed news that the long-awaited adventure was being pushed from 2014 to 2015, extending our stay in a purgatory without killer dino movies in theaters. But at least new rumors have emerged to give us some idea what we're waiting for.
JoBlo claims access to an insider on the in-development production, and so has uncovered a few tantalizing possibilities for Jurassic Park IV. First off, while rumors have claimed Bryce Dallas Howard and Sam Neill are being eyed for the film, the site's source insists that the casting process has not yet started. Moreover, while their informant offers some insight into the picture's plot, he/she gave no hints about what human characters will come into play. But when it comes to that new promised dino, look to the water.
Reportedly, Jurassic Park IV will be set in present day Isla Nublar, which has become the theme park Hammond had dreamed of. Sparing no expense and with a few hard-won lessons from past failures, families can come and see dinosaurs in a sort of Sea World type scenario where the more deadly beasts—your Velociraptors, your T-Rexes—are muzzled for your protection. This park that sees more than 10 million visitors per year also holds the Isla Nublar Lagoon, where audiences can gather to see the monstrous marine dinosaurs leaping out to snatch up a strung up great white shark! (Isla Nublar Lagoon will from here on out be referred to as Nightmare Fuel Lagoon)
Of course, as the makers of the heralded new doc Blackfish will tell you, even Sea World has its bad days. But when Jurassic Park has a bad day, it's not a trainer or stray tourist that is killed by their contained beasts, but absolute murderous mayhem involving massive carnivorous dinos with man-eating predilections. But this time around, the raptors and T-rex, tamed as they are, are on our side, meaning they will take on the new and freshly terrifying and surprisingly intelligent dino that started this latest round of carnage. Sounds pretty awesome to us.
Jurassic Park IV is being shot in 3D, and will come into theaters in the summer of 2015. So swim this summer, while the most terrifying sea creature you can imagine is still Jaws. As for me, I'll be staying out of the water. But you have fun.
Your Daily Blend of Entertainment News
Staff writer at CinemaBlend.