Lawsuit Could Keep CGI Bruce Lee Out Of An Upcoming Action Sequel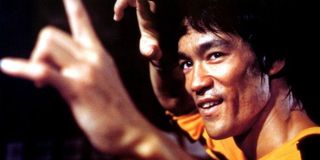 It's only been a few days since the surprising but tantalizing collaboration of Mike Tyson and a CGI Bruce Lee was confirmed for Ip Man 3. But it's already hit a snag. That's because the estate of the iconic martial arts expert and actor has a huge problem with Lee being incorporated into the project.
According to The Hollywood Reporter, Bruce Lee Enterprises, LLC (BLE) has now stepped in to remove the actor's name, likeness and story from being used in the action film. This is pretty bad news for the Hong Kong based studio behind Ip Man 3,, Pegasus Motion Pictures, because they've already started filming.
Just last month the studio confirmed at Filmart that Ip Man 3 would feature a young Bruce Lee, who would be computer generated for the film. They wanted to include the likeness of Bruce Lee so that he could be a disciple of Wing Chun master Ip Man, who will once again be portrayed by Donnie Yen in the sequel. But even if Lee's presence is omitted, Yen is still set to tussle with the monstrous force that is Mike Tyson in the film. The legendary boxer was pitched the idea of the battle of styles and he instantly took a liking to it before then signing up for the project.
It seems that Bruce Lee Enterprises, LLC has all but scuppered plans for Lee to be involved, though. They have issued a statement proclaiming that they are the owners of all of the intellectual property rights to Bruce Lee, as well as the worldwide rights to the Enter The Dragon star's likeness, image, name, persona, voice, signature and basically everything that has ever been associated with him.
Krist Storti, who represents Bruce Lee Enterprises, declared that the estate had been "justifiably shocked" when they learnt of Pegasus Motion Pictures' plans. They added that it had been "completely unauthorized" by them, which is why they have now begun legal proceedings. Storti then proved that they really meant business by declaring:
The situation is complicated by the fact that Ip Man 3 hasbeen working in cahoots with Robert Lee. The 66-year-old younger brother of Bruce is employed as a consultant on the film, and Pegasus has tried to explain that he is the owner of the intellectual property rights of his brother. However, BLE has since shot back, stating that's a lie and insisting, "Robert Lee does not own or control any intellectual property rights associated with Bruce Lee." The matter is now in the hands of lawyers, and we can expect an announcement regarding the fiasco in the near future.
Ip Man 3 was originally intended for a 3D release in the first few months of 2016. However now that this lawsuit is being prepared, it's likely that we can expect that date to be pushed back.
Your Daily Blend of Entertainment News