Lee Daniels Has Zac Efron, Tobey Maguire, Matthew McConaughey And Sofia Vergara For The Paperboy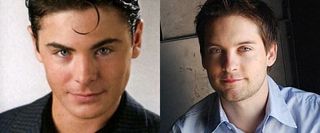 As a child of the 80s and early 90s my primary association with the tittle The Paperboy is the Nintendo game, but now Precious Lee Daniels is preparing to put his own stamp on it. According to Deadline and their exhaustive coverage of Cannes deals, Millennium Films has picked up the rights to Daniels's The Paperboy, an adaptation of Peter Dexter's novel. Zac Efron, Matthew McConaughey, Tobey Maguire and Sofia Vergara are all attached, and unlike The Butler or Selma, it seems likely to actually be Daniels's next project.
Dexter's novel, written in 1995, revolves around two Florida brothers, one of them the titular college dropout still living in his hometown and the other a high-flying Miami reporter who comes back home along with a partner to write about a years-old murder and a possible wrongful imprisonment as a result. I'm pegging Efron for the paperboy and Maguire for the brother, for both the physical similarities and the fact that the writing partner is apparently a sleazeball-- perfect for McConaughey, no? No clue how Modern Family star Vergara might fit in, but I'm not complaining about seeing more work from her. The story is apparently a downer, not unlike Precious, but also contains the elements of sex and crime that can make for fun moviegoing too. And now, more than two years after Precious first premiered at Sundance, Daniels will finally be able to make another movie.
If you're curious about the very well-reviewed The Paperboy now, it's available to buy at Amazon here.
Staff Writer at CinemaBlend
Your Daily Blend of Entertainment News
Thank you for signing up to CinemaBlend. You will receive a verification email shortly.
There was a problem. Please refresh the page and try again.