Leprechaun Reboot Lands A Director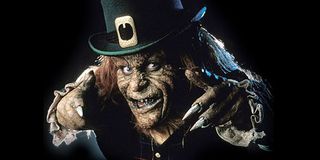 Emerging writer-director Zach Lipovsky has a handful of TV movies under his belt, but he's best known for appearing on the reality TV game show On the Lot, where he was one of 16 aspiring filmmakers competing for a development deal at DreamWorks. Lipovsky didn't win that prize, but now he's found his own pot of gold.
The Wrap reports Lipovsky has signed with Lionsgate and WWE Studios to helm their Leprechaun reboot. With a background in visual effects, Lipovsky could be a good fit for the project, which will likely blend camp comedy and gory horror elements like the original franchise did.
The original Leprechaun centered on a homicidal little man of myth who reigns terror on a young boy and his friends (which included pre-Friends Jennifer Aniston) once they accidentally steal his enchanted gold. The movie became infamous enough to spur a bunch of sequels like Leprechaun 4: In Space and Leprechaun in the Hood - all of which were fronted by Warwick Davis.
It's unknown at this point how closely Harris Wilkinson's script for the reboot will follow the bonkers mythology setup by the original. However, Davis will not be reprising his role. Instead, WWE entertainer Dylan Postl (A.K.A. Little Bastard, Hornswoggle McMahon, Shortstack) will fill his green, curly toed shoes.
Considering it's a reboot of a goofy horror-comedy produced by the WWE and starring a gimmick-driven wrestler, it's easy to write this whole project off as utterly ridiculous. However, utterly ridiculous doesn't exclude insanely entertaining. Earlier this year WWE Studios released the Halle Berry thriller The Call, which was both. And if this Leprechaun is half as entertaining as The Call, it'll fit right in to the fucked up franchise from which it's spawned.
Staff writer at CinemaBlend.
Your Daily Blend of Entertainment News
Thank you for signing up to CinemaBlend. You will receive a verification email shortly.
There was a problem. Please refresh the page and try again.