Leslie Nielsen Dead At 84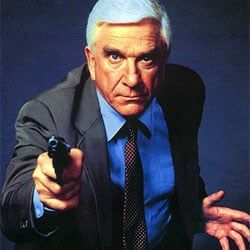 Leslie Nielsen died today in a Ft. Lauderdale, Florida hospital of complications from pneumonia. The news comes from CJOB, a Canadian radio station which spoke with his nephew Doug Nielsen.
Though best known for his comedic work, Leslie Nielsen actually first rose to prominence in Hollywood as a dramatic actor. He was the memorable leading man in the 1956 sci-fi classic Forbidden Planet, 1972's The Poseidon Adventure. and showed up in dozens of dramatic movies and television shows like Bonanza and The Fugitive. His deadpan delivery in 1980's Airplane! marked the turning point in his career, and Leslie would forever after be known as a comic actor.
In 1982 he landed the role that would define him in the minds of millions as Det. Frank Drebin on the comedic TV series Police Squad. And when Police Squad transitioned into movies with The Naked Gun, Nielsen's comedic career really got rolling with starring roles in all sorts of seemingly crazy comedy projects where, more often than not, the insanely talented Nielsen was the best thing about it.
Leslie started working as an actor in the 50s, and continued to do so steadily, right up until his death at the age of 84. All told he appeared in more than 200 films and television programs. In recent years Nielsen spent most of his time in parody movies, and his last big role was in 2008's Superhero Movie where, sight unseen, I feel confident in assuring you that he was awesome. When it came to deadpan humor, nobody did it better than Leslie Nielsen. He'll be missed.
Here's a few of Leslie's best moments from The Naked Gun series. Watch and enjoy:
Your Daily Blend of Entertainment News
Thank you for signing up to CinemaBlend. You will receive a verification email shortly.
There was a problem. Please refresh the page and try again.