Limitless Director Neil Burger Plans Dennis Lehane Adaptation Animal Rescue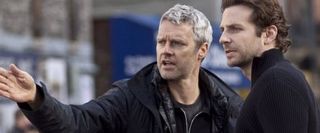 Limitless was one of the biggest surprise hits of last year, making $161 million worldwide off the goofy but apparently irresistible premise of a pill that makes you smarter, and that helps Bradley Cooper transform himself from a schlubby writer into….. well, Bradley Cooper. The movie was also a big leg up for director Neil Burger, who had previously made the little-seen indie The Lucky Ones along with The Illusionist, a.k.a. the magician movie that wasn't the one directed by Christopher Nolan. The success of Limitless presumably gave Burger a lot more options going forward, and though he's still attached to the video game adaptation Uncharted, he's set up a smaller project to work on in the meantime.
And if he wants to guarantee success for his next effort, he can't do much better than to team up with Fox Searchlight, who will be producing and distributing Burger's next film Animal Rescue. According to Variety the film will be an adaptation of a Dennis Lehane short story that's much less cuddly than it sounds--as you might expect from the author of Mystic River and Shutter Island, the "Animal Rescue" short story follows a man leaving behind a life of crime in a good-hearted effort that inevitably goes wrong. Though Searchlight often picks up festival sensations (like this summer's Beasts of the Southern Wild), they have a strong track record for producing their own work too, like previous hits JunoThe Descendants and the current unlikely smash The Best Exotic Marigold Hotel.
Uncharted fans probably shouldn't worry too much-- this sounds like a smaller project to give Burger some exercise while he waits for the bigger movie to come together. And given how much he made out of what looked like small potatoes sci-fi in Limitless, we might have reason to expect big things from this one too.
Staff Writer at CinemaBlend
Your Daily Blend of Entertainment News
Thank you for signing up to CinemaBlend. You will receive a verification email shortly.
There was a problem. Please refresh the page and try again.