Lindsay Lohan Becomes A Stripper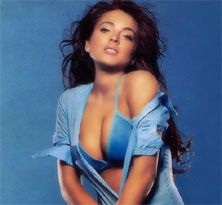 Lindsay Lohan went on Letterman last night and told him she'll be stripping down for her next movie. At least that's the story over on Yahoo. I of course was watching a 'Cheers' rerun at the time, having decided that nothing interesting ever happens on Letterman anymore and I was probably better off reliving the now much less comical misogynistic exploits of self-professed babe-hound Sam Malone. Now I'll tune back in to Letterman for a few weeks, be utterly board, switch back to 'Cheers' and then Keira Knightley will probably come on the show and take her top off. That's just the way this works.
Anyway, Lindsay told him that she plays a stripper in her next movie I Know Who Killed Me. This is somewhat surprising since when we first heard about the movie several months ago word was that she was playing some sort of business woman. I guess with Lindsay's boozy track record someone decided that might not be believable. Good decision folks.
So Lindsay Lohan is giving creepy old dudes and creepy young dudes something to agree on: This is now their most anticipated movie of the century. Of course it'll probably be nothing but a tease and she'll be the only stripper in the history of strip clubs whose act doesn't actually involve taking off her top. That's usually the way this sort of thing works, but she did tell Letterman that audiences will see "a lot" of her and that the movie is really "dark and scary." Does that mean she'll be naked but standing in the dark so no one can see it? Probably.
Your Daily Blend of Entertainment News
Thank you for signing up to CinemaBlend. You will receive a verification email shortly.
There was a problem. Please refresh the page and try again.