Lindsay Lohan's The Canyons Finally Finds Distributor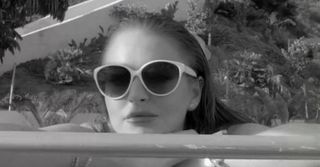 The Canyons was always going to be something of a circus, from the moment director Paul Schrader decided to cast Lindsay Lohan in the lead role, and then bring in porn star James Deen to star opposite her. Rumors of Lohan's bad behavior plagued the brief shoot, and then when the film was turned down from both the Sundance and SXSW film festivals, word brewed that the chaos made it on to the screen as well.
Now, at the very least, we'll get a chance to see how it all turned out for ourselves. IFC has announced that they will distribute The Canyons in North America, with a day-and-date release planned for both theaters and VOD in early summer. And just because the movie never made it to a film festival doesn't mean it won't get some fancy treatment. The Canyons will be at the center of a special presentation at the Film Society of Lincoln Center timed to the release. Kent Jones, the Director of Programming of the New York Film Festival, will hold a Q&A at the presentation, and had this to say in favor of the movie:
Though press release of this ilk are usually all smiles and "it is an honor to work with this company," The Canyons writer Bret Easton Ellis couldn't resist sneaking in some of his signature bitterness:
IFC has had major success in recent years bringing festival films and otherwise difficult efforts to audiences via VOD, and that always seemed a natural fit for The Canyons, the kind of movie you might be curious to see but don't want to trek to a theater to see. After all, it stars a porn star-- his movies seem kind of a natural fit for home viewing.
To catch up on the behind-the-scenes drama of The Canyons, read this unbelievably fascinating New York Times piece. Below is the film's official plot synopsis.
Staff Writer at CinemaBlend