Lindsay Lohan Headed For Porn And Linda Lovelace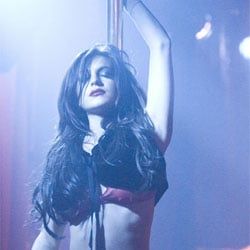 After years of on set problems and box office flops, Lindsay Lohan's career may be in the toilet, but when you're a beautiful Hollywood actress you're never really out of work. You just have to be willing to get naked. That seems to be Lindsay's new career plan, she's set to appear as part of a likely topless mother/daughter threesome in Robert Rodriguez's Machete and now she's playing a porn star.
E! says they've talked to friend of Lohan (I think that means he's her pimp) and photographer Tyler Shields who confirms the rumors which have been floating around indicating Lindsay is signed on to star as famed porn star Linda Lovelace in Inferno, a biopic about her life. Most of the time Lindsay seems to look like she just rolled off the bed on a porn set, so maybe this works.
Lovelace found fame in 1972 as the star of the first widely viewed porn movie Deep Throat. She later did an about face and became an anti-porn activist, totally harshing everyone's buzz.
At one point Anna Faris was supposed to be up for this role before she went another direction and turned it down. Strangely, this is actually one of two competing Lovelace biopics. This one is directed by Matthew Wilder (whom E!'s source claims to have been in communication with), known pretty much for nothing. There's another called Lovelace being worked on by Rob Epstein and Jeffrey Friedman. Like Deep Throat itself, neither of these movies come with particular credible pedigrees.
Your Daily Blend of Entertainment News