New Line Acquires Hot New YA Title The Raven Boys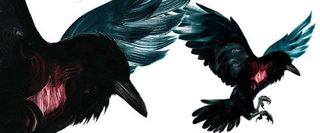 If you've visited the YA section of any major bookstore recently, you're well aware the fallout of Twilight and its immense success: a glutted section dedicated to the YA subgenre of supernatural romance. Boy meets ghost girl. Girl meets vampire boy. You get the idea. Well, soon to join these ranks is the hotly anticipated new novel from bestselling YA author Maggie Stiefvater, The Raven Boys, and already its movie rights have been snatched up.
THR reports that New Line has acquired The Raven Boys and has attached screenwriter and producer Akiva Goldsman to produce. No scribe is yet lined up to adapt the novel, which is to be the first of a four-book series. But if The Raven Boys proves the breakout hit that Scholastic suspects, then New Line could have a new franchise on their hands. So, it's not a bad play for their first earnest foray into YA.
The novel centers on a 16-year-old girl named Blue who discovers she shares her mother's gift of clairvoyance, but fears a prediction that declares she'll be the cause of her true love's death. You might imagine such traumatizing news would urge Blue away from boys, but teen hormones are nearly as strong a will-breaker as her attraction to Gansey, a student at a posh private school that's students are known as the Raven Boys. As Blue is pulled by her attraction to Gansey, she's not only drawn into a search for a possibly magical burial ground, but also a heated love triangle.
The Raven Boys will be the third of Stiefvater's works to be adapted into a movie. The first, the wolf boy meets girl romance Shiver is now in development at Unique Pictures, and is slated for a 2014 release. The second, The Scorpio Race, was bought by Warner Bros. in 2011, just a week after it hit bookshelves. That project is still in the works.
Your Daily Blend of Entertainment News
Staff writer at CinemaBlend.