Listen To Ant-Man's Original, Triumphant Theme Music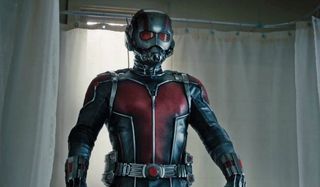 Christophe Beck, the composer for Ant-Man, is clearly rather pumped ahead of the release to the latest addition to the Marvel Cinematic Universe. How do I know this? Because the rather talented musician has taken to Twitter to share his astounding work on the diminutive blockbuster by uploading the theme from Ant-Man. And, as you probably hoped, it's rather spiffy.
There's something wonderfully oldschool about Beck's Ant-Man theme. Not only does it instantly harken back to classic James Bond capers, but there's also an easiness and breeziness to the music that seems to be a perfect fit with Ant-Man's comical tone.
Plus, it also helps that the rise of the music and its grandiose build-up makes it an absolutely rollicking number. In fact, I would feel perfectly comfortable blasting Christophe Beck's Ant-Man theme out of my car as I drove down the street. It would probably instantly inspire me to go on a high-speed chase, too.
Beck has been a mainstay of Hollywood musical composition for close to two decades now. Having previously won an Emmy Award back in 1998 for his work on Buffy The Vampire Slayer, he has since created music for Bring It On, Garfield, Fred Claus, The Hangover, Percy Jackson & The Olympians: The Lightning Thief, Edge Of Tomorrow, The Muppets, and Frozen. And while there are admittedly a few stinkers in there, it's plain to see how his career trajectory has led him to this point.
Christophe Beck's decision to unveil the theme for Ant-Man comes just a few days ahead of the release of the film. There had previously been fears that Ant-Man would be the first flop for the studio since 2008's The Incredible Hulk, but the wave of positive reviews from critics after its first screenings last month seems to have rejuvenated interest in the film.
In fact, it's currently on course to take in a healthy $65 million over its opening weekend. This will make it as successful as the origin stories for both Thor and Captain America: The First Avenger, while its positive reviews should help to give it a bit of longevity.
Which, when you think about it now, is hardly a surprise. Yes, there were huge concerns when Edgar Wright dropped out as director, just over a year before Ant-Man was due to hit screens. These were hardly halted when Peyton Reed was announced as his replacement, but with Paul Rudd and Michael Douglas leading the way from an Adam McKay script, Ant-Man was always going to be at least watchable. We'll see just how watchable when Ant-Man is finally released on Friday.
Your Daily Blend of Entertainment News