Listen To Elfman's Alice In Wonderland Score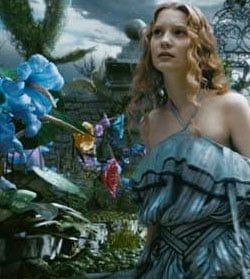 With today's announcement of Sony's decision to spit in the face of Sam Raimi, Spider-Man fans, and people of good taste by rebooting the still very much alive Spider-Man franchise, it's gotten me thinking about just how great the web-head's on screen presence really was. One of the most underrated parts of Spidey's success is, without a doubt, the work of Danny Elfman.
Elfman is responsible for the original Spider-Man score and, though you may not have instantly latched onto it, it's the sort of score that really grows on you the more you hear it. By the second time you saw the first Spidey, you were almost assuredly humming it as you walked to your car. And now here you are, reading this, and odds are it's just started bouncing around inside your head. Elfman's work sticks with you, when you least expect it. Now that Spider-Man has been torpedoed, you'll have to latch on to this: the score for Burton's Alice in Wonderland.
Elfman composed the movie's music and, in a show of confidence, Disney has decided to let you listen to it right now. The score has just been added to the Alice in Wonderland official site, and it auto-plays whenever you visit it. It's got a whimsical, fantasy quality which is about what you'd expect from Alice. Give it a listen by clicking here and see if it sticks with you.