Locke & Key Is Happening As A Screenwriter Is Hired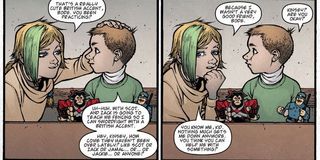 Screenwriting duo Roberto Orci and Alex Kurtzman have become a Hollywood dream team, penning such blockbusters as Transformers, Transformers: Revenge Of The Fallen, Star Trek (2009) and Star Trek Into Darkness. But this twosome has been branching out into producing, and so have been seeking a scribe to adapt the graphic novel Locke & Key. It looks like they've finally found their guy.
THR reports Albert Torres has officially been hired to adapt the award-winning comic book series Locke & Key into a thrilling screenplay for Universal. Roberto Orci and Alex Kurtzman are producing the project along with Bobby Cohen (Now You See Me) and Ted Adams, CEO and publisher of IDW Publishing, which released the comics.
For those unfamiliar, the best-selling comics by Joe Hill and Gabriel Rodriguez centered on three siblings (Tyler, Kinsey and Bode Locke) who are forced to move to their ancestral home in Maine when their father is murdered. Once in their family's long-held house, these three stumble across a magical set of keys that give their carriers incredible powers. But things go for bad to worse, when a dangerous demon begins to stalk the Locke children in hopes of snagging these keys.
Albert Torres is an unexpected choice for the project, namely because he doesn't have many films to his credit. Torres's first produced screenplay was the 2008 religious dramedy Henry Poole Is Here, which starred Luke Wilson as a depressed man who finds a new lease on life when an unexpected "miracle" occurs in his backyard. Later, he contributed a draft to the in-development movie adaption of Ben 10, a kid's show about an average boy who wins fantastical transformative powers when he finds a piece of alien technology called the Omnitrix. And he's been called in to work on the script of Warner Bros' Akira and well as Paramount's Hyde.
Clearly, Torres's reputation is on the rise. So it's little wonder he was on Orci and Kurtzman's radar. But it seems safe to assume the emerging screenwriter had a pretty spectacular pitch to land this sweet gig. What remains unknown is how long Torres has been lobbying for this job. Was he the screenwriter that Alex Kurtzman alluded to back in 2013, when he assured anxious fans that a Locke & Key movie would come together? If so, what took the trio so long to announce this union?
Still, even with Kurtzman's assurances and Torres's hiring, it's too soon to assume Locke & Key is destined for the big screen. The would-be movie has already seen a lot of turnover. Dimension was the first to pick up the movie rights to the popular comic. Then Roberto Orci and Alex Kurtzman snatched it for Dreamworks, with hopes of making it a television series. While a pilot was shot for Fox, it never made it to air. After a string of false starts, Universal picked up the project last summer. But it remains to be seen if Torres's script will prove the key to unlock this tricky conception.
Staff writer at CinemaBlend.