Look For Star Wars To Have A Major Female Influence Moving Forward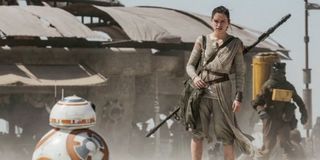 Much as Marvel is looking to diversify its superhero lineup — whether or not due to audience pressure — the Star Wars universe is doing the same. With specifics regarding to gender representation, Lucasfilm is looking to feature women more prominently in the galaxy far, far away, including behind the camera.
Lucasfilm president Kathleen Kennedy recently spoke with The Guardian at the Fortune Most Powerful Women Summit in Washington. So far, only male directors have been deemed worthy to helm one of the new Star Wars movies — Star Trek's J.J. Abrams is on The Force Awakens, Looper's Rian Johnson on Episode 8, Jurassic World's Colin Trevorrow on Episode 9, and Godzilla's Gareth Edwards on the first anthology film Rogue One. However, Kennedy said that it's important for a female filmmaker to take the reigns.
Her statement comes at a time when there's an outcry for more female voices in Hollywood. U.S. representatives from the Equal Employments Opportunity Commission will conduct interviews with female filmmakers as a means of probing about gender inequality in Hollywood. According to reports, 50 directors received a letter asking to meet with agents, and it's considered a step towards launching a class action lawsuit against Hollywood for not abiding by the U.S. Civil Rights Act of 1964.
In terms of geek-centric fare, like Star Wars and superheroes, female directors are scarce. Disney's Captain Marvel movie is still looking for a director, though the hope is that a woman will take the helm; Ava DuVernay was in talks for Black Panther, but she turned them down over creative differences; and Patty Jenkins will direct Gal Gadot in her Wonder Woman standalone for DC.
Kathleen Kennedy says it's Hollywood's responsibility to support these talents.
Though Kennedy is looking to bolster female voices within Star Wars, she also says that some of the female characters play important roles, including Daisy Ridley's Rey. The scavenger from Jakku is said to be "extremely significant" to the overall plot by Kennedy, who wouldn't dive into any more spoiler-y territory.
Rey will be introduced in Star Wars: The Force Awakens starting this December 18. She'll be joined by a cast of new and old players, including John Boyega's Finn and Oscar Isaac's Poe Dameron.
Your Daily Blend of Entertainment News
Thank you for signing up to CinemaBlend. You will receive a verification email shortly.
There was a problem. Please refresh the page and try again.