The Feds Investigate Claims Of Discrimination Against Female Directors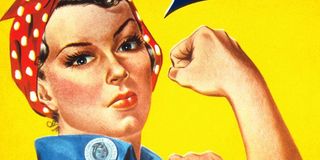 The women of Hollywood have been speaking out on all matters of the industry and how they have been treated whether it comes to directors or the actresses involved. Well today news broke that an investigation will be made into claims of discrimination against female directors after the American Civil Liberties Union (ACLU) asked Equal Employment Opportunity Commission (EEOC) to investigate whether Hollywood is violating Title VII.
A few months back the ACLU sent a round of letters to the commission, the California Department of Fair Employment and Housing and the Labor Department's Office of Federal Contract Compliance Programs along with detailed statistical and anecdotal evidence which they believe shows "overt sex stereotyping and implicit bias". Well now, according to IndieWire the EEOC has begun their investigation into gender discrimination in Hollywood by sending out letters to women directors asking them to come in and meet in October so that the organization can learn more about what's going on in the industry.
The interviews will ask directors in film and TV to discuss the discrimination they've faced, and of course be completely confidential. This comes after the ACLU pushed for an investigation back in May. Along with their letter, many in the Hollywood industry have been speaking out about the treatment of women in Hollywood as of late. So, at the height of the discussion, the feds have begun their own involvement.
It's not all talk that initiated this investigation though, the statistics surrounding the claims are shocking. Women have directed only 4.7% of studio films from 2009-2013 and 10% of independent films. The letter in which the ACLU penned to the state and federal agencies asked to look into whether these statistics correlate with a direct violation of Title VII of the Civil Rights Act which prevents employers from gender discrimination. The ACLU's letter (via IndieWire):
The claims of gender discrimination in Hollywood have been flooding the headlines lately, but this discussion has been going on for decades. Back in the early '80s a newly formed Women's Steering Committee discovered that women had held .05% of directing positions across all media. And according to the NY Times back in the 1960s the Justice Department intervened in EEOC's investigation into Hollywood finding employment discrimination. A settlement was reached though many, the ACLU included said that the enforcement measures ultimately failed.
The investigation is only just beginning, so there will surely be more announcements as time go on. Whether or not there will be any illegal activity found is sure to come forward in these private interview sessions. Stay tuned.
Your Daily Blend of Entertainment News
Thank you for signing up to CinemaBlend. You will receive a verification email shortly.
There was a problem. Please refresh the page and try again.